Ms.Derrick
April 5, 2017
Ms. Derrick
School was always fun for me, it was a place to talk to friends and be social with people I normally wouldn't see. I was never the biggest fan of doing schoolwork; however, that all changed when I got to school in 7th grade, about the middle of the year. Instead of seeing our normal substitute, I saw a welcoming lady whose smile never seemed to leave her face. Ms. derrick was and still is the most kind-hearted and beautifully spoken person I've ever met. The next 2 school years would be the best I would ever have.
Creative writing and English class had always been my favorite. I loved being able to express my true emotions through simple words on a piece of paper; however, I never knew how. So, one day I decided to tell Ms. Derrick about my dilemma. Soon she would invite me and other students to her room during her lunch break that could have easily been used for her own personal time, but was instead used to help me. Not only would she help us with school, but she could always tell if something was upsetting us. Ms. Derrick's room was always open for us, no matter if it was for academic help or just someone to talk to. She was in no way a therapist, but simply an amazing listener.
Academics were very important to Ms. Derrick, so to keep her students occupied she would make up fun activities such as: creative writing prompts that allowed us to feel involved in something bigger than just turning in a paper to just get graded and stuffed in a drawer. We could finally feel as though we were a part of something. After everyone was done writing down final thoughts, we would stand up and present. This was my favorite part of the day, finally a time where I could publicly present my words without feeling judged. This was all because of Ms. Derrick and how much she encouraged us to step up, and show who we were, and by merely saying "keep going" or "don't give up on your dream just yet", that meant the world to us. It showed us that someone besides close family cared for us beyond the surface, but instead for the meaning behind our words.
In 8th grade we got the lovely news that she would be moving up to teach us again. All of her students were over the moon. Ms. Derrick was soon becoming not only an amazing teacher but a role model for her students. Even when she was down in a slump, she would always keep a smile on her face. We would read at least one book a year, always on the edge of our seats. Though she, of course had to give us some sort of test, we would have fun activities (Jeopardy, bingo, etc.) to prepare for tests and quizzes.
Having a teacher like Ms. Derrick taught me so much, not only academically, but mentally as well. She taught me to be a better person, to give second chances, and to trust others without automatically thinking the worst of people. I became a better writer, and editor of my own work and others as well. We judge our work so heavily because we are so close to it, whereas when we see others we resonate with the good and the bad, being able to critique more easily without being upset with ourselves. Thank you, Ms. Derrick, for helping me to become an overall better person. For all these reasons and many more, I nominate you for Teen Ink's Educator of the year contest.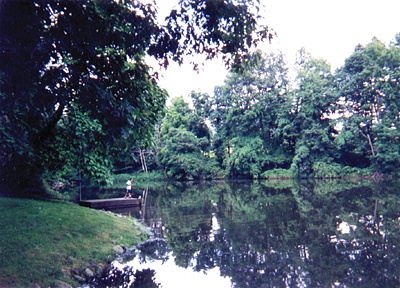 © Amber C., Fair Oaks, VA