Master Sergant Howie
April 5, 2017
I have a teacher that has taught me more about life in three quarters of a school then I have learned in my entire life. His name is Kevin Howie, but in the classroom he goes be his title in the Marines which is Master Sergeant Howie, and he is my nominee for Educator of the Year.

Msgt. Howie is a great instructor and his many aspects have motivated me through the school year. He is a focused instructor and really puts things in perspective. Every monday we know exactly what to bring to class for each day of the week . We know when, what ,and how a test will be executed with plenty of time before it happens. He doesn't try to trick us when it comes to passing his class. He puts it out for us to see but we just have to work towards it. He challenges us in his lessons through the book and through his own ways such as powerpoint slides. As an educator, you must be able to teach every student and be able to have them leave with the lessons understood and still in their minds wherever they roam, and Msgt. always achieves this standard. He gives a balance between humor and entertainment, and education and learning. He appeals to all types of students to ensure that everyone understands the lesson and tasks at hand.

Msgt. Howie is also extremely kind and funny teacher and person in general. He shows these two aspects in many ways: one being kind and he shows this through the little things like opening doors for others, (common greetings like "good morning", and "how are you", and replacing misplaced ribbons or other parts of our uniform). He is funny in many ways,through his teaching and just as a normal person. He tells us funny ,but true, stories to help us better understand his lessons. There was one story he told us with the moral being keep your composure and perspective. It was when he was deployed to Thailand and he was free to go and do what he wants but if you weren't back by a certain time you couldn't go out again. Msgt. partied hard but still kept his perspective of getting back on time. Later in the night one the way back he saw one of his buddies who was drunk and had lost his composure and tried to help him get back to the ship. To cut to the chase, the man ran off before returning to the ship and wasn't allowed to go out the rest of the time there. This story told us the consequences of losing your perspective and what not to do when partying.

Finally Msgt. is great in his pathway of helping us learn and gain from the lessons he teaches. Msgt. is great in the subject he teaches but also he helps us with other subjects in other ways too. When we finish his lesson, unlike some teachers I had prior to DMA, he gives a study period to help us catch up on work in his class and other classes as well. To make sure we are learning this material he gives us, frequent and weekly, tests and quizzes to ensure we study and learn the topic to our full extent. Another thing Msgt. does to fulfill are learning is that he does little things to keep us atent and alert, he will do things like clap or say "hey" if someone doses off, and starts lessons with something that catches our attention. If it is a talk about drugs he might say something morbid or upsetting to get us thinking of the matters of drug abuse.

All in all, Msgt. Howie is beyond worthy of receiving the title of Educator of the year, but the greatest thing about Msgt. Howie, above all other aspects listed: he is modest. On his birthday he didn't think of mentioning it to us or any other instructors. My favorite thing about Msgt. is how he would take his life for a dirty, rotten, spoiled child, regardless the situation or the history of the child; he would put his life on the line for any of us. Msgt. Howie influences any who crosses his path big or small; he would either make them happy about themselves if they were down, or knock some sense into them if they were arrogant.

Msgt. Howie is my favorite teacher ever and is beyond worthy of receiving the Educator of the Year award.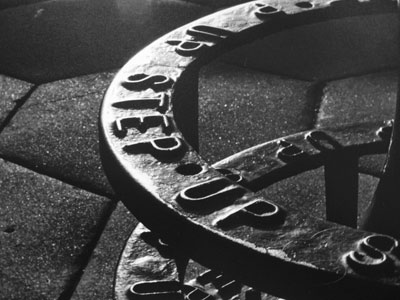 © David D., Apple Valley, MN