Jean Coker, Cheerleading Coach • Pelham High School
MAG
January 8, 2016
My junior year of high school, I had my mind set on trying out for the cheerleading team. That was all I could think about my whole sophomore year. Little did I know that we no longer had a cheerleading coach. And without a coach, there would be no team. We had to find a teacher to volunteer. Luckily Mrs. Coker (who teaches math) offered to be the coach. She did not want to see our program disappear. Now, because of her selfless act, I have been on the Varsity Cheerleading Squad at my school for two years, and have gotten to know a teacher who has touched my heart forever.
Mrs. Coker deserves to be recognized for her hard work and passion for helping others. All of her students love her as their math teacher and as a person. She is always here for me with open and loving arms.
I will never forget the last high school football game my senior year. I started crying because it was all over. Mrs. Coker hugged me tightly and said, "Don't cry, sweet girl. It's not supposed to be sad. This is a happy moment to enjoy what you love to do for the last time at this school." And she added, "I know I have enjoyed coaching you." I never thought that I would become so close to a woman whom I had never even met before she volunteered.
The courage Mrs. Coker has says it all to me. She came into the sport of cheerleading not knowing a single thing about it. Yet she was determined and willing to learn everything she needed to know about the sport, researching and figuring out as much as she could on her own.
Now, as I finish my senior year, I look back on how much I have grown. I want the world to know how amazing Mrs. Coker is and how her selfless volunteerism and her courage allowed our school to continue our proud tradition. We were able to continue our passion for cheering because Mrs. Coker cheered us on.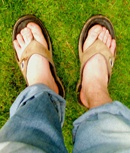 © Caitlin E., Sammamish, WA