Laura Barrosse-Antle, Chemistry • Sidwell Friends School
MAG
December 27, 2015
A good teacher is able to give students a strong handle on the class's curriculum. A great teacher goes beyond that, teaching students to be better learners. Dr. Laura Barrosse-Antle is most certainly the latter. On one of the first days of the school year, Dr. BA explained to our class that her intentions as our teacher were to make us better learners. She didn't expect us to retain all of our chemistry knowledge for the rest of our lives, but she hoped that we would carry with us the problem-solving skills and critical thinking that we would be working to develop in her class.
Dr. BA pushes us to be better learners on a daily basis. She challenges us not to give up on challenging homework, but instead to approach the problems by breaking them down into smaller questions. She encourages us to grapple with them by writing down our thought process.
While Dr. BA allows and encourages questions in class, she often urges us to come to an answer ourselves by having us synthesize the knowledge that we already have. Other times, when a student has a question, Dr. BA looks to the class to answer it. She also poses difficult questions for us to answer in groups.
Dr. BA frequently challenges students to articulate difficult concepts in words – either through writing or verbal explanation. Being able to explain something not only reinforces our confidence in the material, but also helps us build self-confidence in our own intelligence.
I genuinely feel as though I have grown intellectually as a result of Dr. BA's class. I have seen a dramatic difference in how I approach challenges. Whether it is translating a hard passage in Latin, organizing my thoughts for an English essay, or solving a difficult math problem, I am frequently utilizing the skills I learned in Chemistry. I have developed both patience and persistence. As a result, I have reaped the rewards of fulfillment and enjoyment from learning.
No teacher sets her students up for academic success more than Dr. BA. Teaching one of the most difficult science courses in our school's intense curriculum, Dr. BA articulates and explains concepts like no other teacher can. She is clear, concise, and organized. Class time is well spent; every moment is used and no time is wasted. In addition, she provides extensive resources outside of class that give us a better grip on the material. Every night she posts "pencast" videos, where she explains in detail the previous night's homework. She also posts the answer keys of worksheets, so students can review problems that they were unable to solve. Finally, she makes herself easily accessible outside of class.
Dr. BA truly values everyone in our class. She treats us as more than just students – as invested members of the school community. A couple of times at the beginning of class, she has asked us our opinion on larger school policy issues. When an unaffiliated Baptist Church known for its hate speech planned to protest at our Quaker school, she asked us what we thought was the appropriate response. She has also asked students to share ideas on what we think would be interesting courses to add to the curriculum. Dr. BA does not play favorites. She calls on every student and is careful not to let anyone dominate class discussions.
Last but not least, Dr. BA makes chemistry class very enjoyable. She frequently uses humor and sarcasm, creating a serious but relaxed atmosphere. She employs amusing analogies to explain daunting material. We frequently remark that no class goes by faster than chemistry. This is a testament to Dr. BA's great teaching: we are always fully engaged, whether it is a lab activity or a class lecture.
I look forward to chemistry class every day, and I am thankful to Dr. BA for all she has taught me.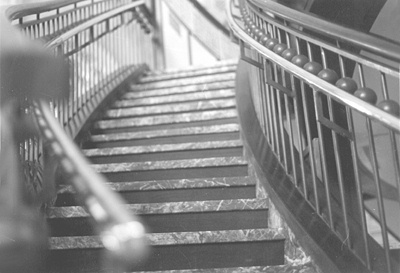 © April P., Marblehead, MA