Steve Manne, Basketball Coach • St. Joan of Arc and St. Catherine of Alexandria Parishes
MAG
March 16, 2015
Steve Manne started a Catholic Youth Ministry (CYM) basketball team at my parish a few years ago. He often refers to practice as his outlet for enjoyment. He opens the gym to 30 players, runs practices twice a week, hosts games on Saturdays and Sundays, and takes our team to visit the Milwaukee Rescue Mission.
It makes me feel great to have somewhere to go after school in the winter. Playing sports has never been a talent of mine; I never enjoyed sports, and my teammates hadn't enjoyed me. Coach Manne helped make me feel comfortable playing basketball by putting me in the games. He made me feel comfortable around the team by bringing us together for bonding so often that it was hard not to get to know and like everyone.
Currently, Coach Manne is getting his Master's degree in a type of engineering beyond my comprehension, while at the same time working full-time, coaching three CYM basketball teams, and being a husband and father. He also works with the Milwaukee Rescue Mission, gives us kids a place to go in the winter, and most importantly, gives time to God.
Coach Manne has taught me that no matter what is going on in my life, the most important thing is to have faith. No matter how busy I am, I continue to pray and stay close to God.
Despite a heavy workload, Coach Manne has, to my knowledge, only canceled practice once. He drove all the way to the gym in intense snow, in his little black car, only to cancel practice when he got there. That showed me how much Coach cares about our safety, and I always feel safe around him.
There have been times when Coach Manne had to fly back from a business trip on a Friday afternoon in order to make a 7 p.m. practice. In some cases, he stayed up all night working so he had time for practice. And during the weeks he doesn't get to see his family as much as he would like, he brings them to practice. The fact that Coach Manne makes time for his wife and kids despite a busy schedule shows me that work is important, but love is imperative. When I have a family some day, I want to treat them as well as Coach Manne treats his.
Coach Manne has made our team a family. We watch videos before Friday practice (including ESPN's "30 for 30"), and players trade off buying pizza. My teammates have each others' backs, not only in the game but outside the gym. We have never gotten upset with each other during a game, no matter what happens. We go into games as a team and come out a team; whether the outcome is positive or negative, we never turn on each other.
I have applied this team mentality to my everyday life, and it has made me a better person. It has made me realize that to be successful I need others' help. It has taught me that turning on my teammates in hard times will only lead to bad relationships and abandonment.
Being a part of Coach Manne's team has helped me find joy in life and school. It's given me a place to go and people to talk to. Taking journeys to the Milwaukee Rescue Mission with Coach has shown me how bad some kids have it. It's given me motivation to keep my grades up in high school, to attend college, and to hopefully one day help those who are less fortunate.
All in all, this has been the greatest sports team to be a part of. Thank you, Coach Manne.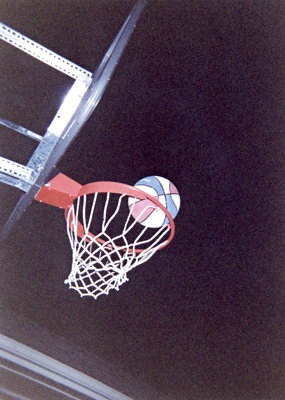 © Laura P., Highland Village, TX