Therese Rodeghier, Librarian • Arrowhead High School
MAG
March 13, 2015
It's not every day you come across a teacher who finds a way to match her outfits with a headband, earrings, necklace, and bracelet. But my favorite teacher not only wears a sea of purple, but also a smile every day. Her smile is like a sunbeam that brightens everything and everyone.
A great educator must be intelligent, sincere, and motivating. During my time at Arrowhead High School, I struggled to find an educator who had those attributes. But one day, in the junior study hall library, a woman with a bright, bubbly personality handed me my school ID and said, "Oh my gosh! What cute shoes! I'm Mrs. Rodeghier. Nice to meet you!" It was refreshing to meet an educator who wasn't uptight and intimidating.
I have a lot of respect for Mrs. Rodeghier. Librarians are often disrespected by students and overlooked as educators. Sadly, Mrs. Rodeghier is not given enough credit for her hard work. She juggles a multitude of tasks: answering phone calls, checking out books, keeping an eye on students, and knowing the location of books I have never heard of. Unlike a teacher with 30 students in a class, Mrs. Rodeghier has to know everyone at Arrowhead, and does.
Mrs. Rodeghier exemplifies the perfect balance between leader and friend. She takes charge of the wild, animalistic students who sprint into the library. She is strict when necessary, yet personable and easy to talk to. She genuinely cares about each student, especially when she asks, "Hey! How's it goin'? What's new?"
Whether you know Mrs. Rodeghier or not, she is someone you can really talk to. I have confided in her on topics ranging from boy troubles to how to make cake fondant, and many things in between. And she is always more than happy to listen. She is trustworthy, witty, and will compliment you – even when you come to school in pajamas and messy hair.
I try to say hello to Mrs. Rodeghier every day. I will walk into the library yelling, "Hey, Rod! What's up?" Even a year later, having to remember 500 more new students' frivolous dramas, she remembers mine. She is unlike any other educator. She goes out of her way to learn about her students and form personal relationships – just like she has done with me.
I wrote this essay because Mrs. Rodeghier should be recognized and no longer overlooked. She is hardworking, intuitive, and good-hearted. She has taught me lessons I wouldn't have learned in school – lessons that will stick with me throughout life. She has taught me to be positive in negative situations, not to judge others, and never to give up. I am grateful to know her. On behalf of me and my peers, thank you, Rod, for all that you do.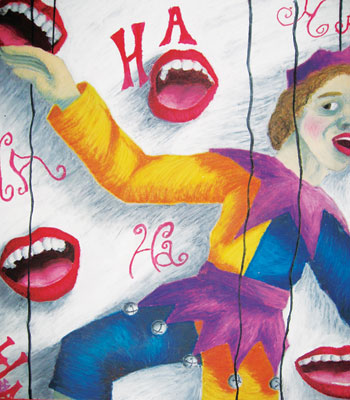 © Carollynn G., Hawthorne, NY