Marie Fricker: Social Studies • North Shore Middle School
MAG
October 6, 2014
When you think about seventh grade, you probably think of faces filled with pimples, smelly boys, and recess. But when I think of seventh grade, I think of my Social Studies teacher, Mrs. Fricker.
I remember walking into class that first day and a tall woman with frizzy hair yelled, "Hello! Welcome to class!" She was as tall as a giant but had the temperament of a dove. Although she could be loud, she had a voice of silk that set my mind at ease. Her room was filled with posters of all the different units we'd cover, and a life-sized Austin Powers cutout stood in the corner.
Mrs. Fricker is a quirky teacher with a love of learning and kids. She had such a joyful personality that there wasn't a day that I didn't want to go to her class.
If I ever needed help, Mrs. Fricker would tell me to come to her during lunch. One day when I went to her room for help on a project, the lights were off so I figured maybe she had forgotten I was coming. Then, suddenly, I heard Lady Gaga blasting and saw Mrs. Fricker dancing. You haven't lived until you've seen a frizzy-haired lady with long legs dance around a classroom!
Mrs. Fricker is a teacher who really cares about her students' future. She takes time to talk to every student and help them strive to reach their goals. One particular story will stick with me forever. For our first major project, she had us pick a controversial topic, write a letter to a senator, survey our classmates, and presentation of our findings in class. I had trouble deciding on a topic, so Mrs. Fricker suggested one that I'll never forget.
She had me do my project on same-sex marriage, which I'd never heard of before. I thought the idea was strange. My parents had never taught me that it was okay to love whomever you love – boy or girl.
I'd had crushes on girls ever since third grade, but I thought my feelings were unnatural and wrong. When Mrs. Fricker assigned me that project, she opened my eyes to a community of people just like me. Without her, I'd probably still be denying and feeling ashamed of who I am.
Mrs. Fricker is a very wise teacher. One day we had to present projects on countries, and when it was my group's turn, I asked to use the restroom. She saw right through me and wouldn't let me go. She knew I needed to face my stage fright. Now I can get up in front of the class and give a speech without hesitation, and I am forever thankful to her.
Looking back at seventh grade, I remember Mrs. Fricker with her quirks, wisdom, and affinity for Lady Gaga. I feel thankful to her for teaching me and hundreds of other students to be ourselves – no matter if we are smelly boys, have faces filled with pimples, or are struggling to accept who we truly are.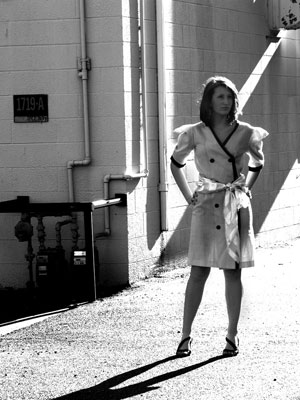 © Kaya B., Charlottesville, VA