Kevin Stotts: English • Upper Arlington High School
MAG
November 7, 2013
I would come to associate my freshman year with three things: walking home because I couldn't drive, unexpectedly developing an addiction to the coffee from the shop in the cafeteria, and orange tennis shoes. These shoes were the first thing I laid eyes on when I entered the first class of my high school education: Honors Freshman Literature and Composition.

Being in a new environment, I had not dared raise my head on the trek from my locker to the other side of the school. But when I saw those orange monstrosities, I had no choice but to look up. The man who stood in front of me was not what I expected. Whatever I had imagined as my English teacher, he wasn't it.

Picture a man who towers over you, who wears an orange sweater so bright you have to squint, and who has kind eyes the color of mud. This is Kevin Stotts, freshman English teacher at Upper Arlington High School. And he is so much more important than I realized at that moment.

Entering his room, I saw something out of the ordinary. There were rows of desks, as expected. But pushed against the wall was a claw-foot bathtub that was, much to my amusement, orange. Looking closer, I saw that it had been crudely painted not once, but multiple times. Someone had scratched the paint down to its original porcelain. You could see mustard yellow, navy blue, and rose pink peeking out from underneath the heavy layer of orange. Eventually I moved on and plunked myself down in a random seat.

My teacher's voice boomed when he addressed us, his new crowd, but it was not intimidating. Instead his voice was cheery, passionate, and full of life. Even if you were like me, someone who only wanted to stare at her desk for the designated 50 minutes of class, you couldn't block out the sound of him talking.

I learned a few weeks into the first quarter that Mr. Stotts had grandchildren, and the thought absolutely floored me. I had assumed he was no older than my father. His hair was the same color as his eyes, with only traces of silver. He had age lines, but they seemed to fade.

Now, after knowing him for a little less than 180 days, I chalk it up to this: He's always smiling. No matter what day of the week it is, no matter what exams we have to take, he always has a grin on his face.

The first day, he gave the usual rundown speech: rules, what to expect of the class, where we'd be sitting for the year. He also gave us our first homework assignment: a paper, 350 words or less, due Friday. These papers would come to be routine, known as Friday papers.

In one particular Friday paper, I described just how alone I felt. I poured every dark emotion into that essay. And for the first time in my high school career, I felt something lighten in my chest. When I got that paper back, there was a comment from Mr. Stotts.

"This piece captures a single mood – and that is not easy. Talk to me whenever you want, okay?"

I think that's when I knew that he was a great man. I'd had likable teachers before, but I knew that unlike them, he was sincere.

That class became my haven. I might not have looked forward to eight classes every weekday, but first period never felt like a chore. I treasured every moment at my desk.

That class was so strange. We would be heavily studying symbolism one moment, and then huddled outside while we watched some kid prove that he could do the worm. We reenacted the kiss scene from "Romeo and Juliet," including the actual kiss.

I'm not saying that Mr. Stotts was a great teacher just because we did out-of-the-ordinary things. He was an amazing teacher because he cared about every student. He offered extra help before school, during lunch, and even after school if we had a test coming up. He matched our stories with tales from his childhood. One of my favorite classes, if I had to pick one, was when he simply asked us if anyone knew what they wanted to do in their life. Not just career-wise, but things like where they wanted to travel.

I remember being so afraid to read aloud anything I had written. To this day, the feeling of eyes on me makes my skin crawl. But I learned in his class that whatever I wrote was my own and I should take pride in my work.

Mr. Stotts saw so much in us that we didn't see in ourselves. And when I remind myself I can do it, I think of him.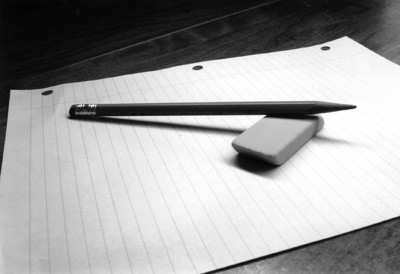 © Michael H., Mildford, CT