Rebecca Sims: English and Literature • Highland Home School
MAG
October 25, 2013
If asked who they thought the spawns of Satan were, many teachers would say teenagers, and many teenagers would say teachers. Thankfully, I know one teacher who is an exception: my high school English and literature teacher, Rebecca Sims (or Sims, for short).

When we first met her, we were all terrified since she is an inactive Marine. She also has the reputation of being the teacher who sends the most students to the office. I remember almost shaking the first time I walked into her class, but it took only a week before her class became the highlight of my day.

It is almost impossible to call Ms. Sims' teaching style anything but passionate. Her constant harassment is proof of that. She will search the web looking for essay, poetry, or poster contests to pile on us, but she helps us every step of the way with them. She gives so much to her students that it makes us feel like we are a part of her family. Plus, even though she laughs and plays as she teaches, I still can honestly say that she has taught me more about literature and English in one year than all of my other teachers combined. When I began her class, I didn't have any achievements because of my poor English skills, but by the time I left her class, I had earned a full page of awards to add to my college résumé.

With all of the responsibilities that she piles onto her plate, it is amazing that she can keep up with them. Ms. Sims is the school proctor of the Future Teachers of America (FTA) and English Honors Society. In addition – after much begging from her students – she also agreed to be the senior sponsor. She keeps students' spirits high by helping with pep rally attire, flags, and signs that she often pays for. She also plans the trips for the FTA and the English Honors Society clubs single-handedly and never fails to please every student with the locations that she chooses. Recently, she also joined the after-school program and helps students in the evenings. Despite her busy schedule, she still finds time to help each and every student, never turning anyone away.

When a student needs help with a college question, we head straight for Ms. Sims' room. She answers all our questions, and helps us with scholarships, learning about admissions, and even setting up appointments with college representatives. She will sit with each of us to discuss what our best course of action is, and then helps set the plan in motion. She puts so much time and energy into her work that it is impossible not to respect her. Students follow her advice because she has proven time and again that she knows what she is talking about. Countless students have told me that they would not be heading for college if not for Ms. Sims.

If any teacher deserves to be recognized for what they do, it's our Sims. Teachers should take note of her style of teaching – one that says that students are not a bunch of hormonal teenagers but an energetic group in need of a strong leader who uses understanding and respect to hold their attention. She should be appreciated for how much she gives back to our school, stepping in for those teachers who cannot, or refuse to, do it. Lastly, and most importantly, other teachers should realize how she doesn't teach us just to get us out of school, but instead teaches us to get us into another school – college. She is preparing us not just for our next test, but for the rest of our lives.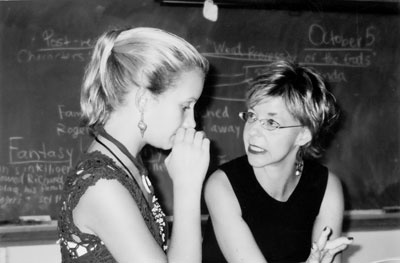 © Olivia L., Pompton Plains, NJ