Karen Halmos: Hero
July 18, 2013
Kingsville District High School is a school filled with talented and colourful characters. From our incomparable tech department to the math teacher who wore a cape to the student-teacher volleyball game last year, there are plenty of interesting people and plenty of talent. Miss Karen Halmos stands out amongst them.

Miss Halmos is a local legend of sorts. Going into KDHS, I didn't know much – I didn't even know enough to not get lost in a school that's essentially a square with a bar in the middle – but I knew the drama teacher. Everyone knows her name, and everyone knows her drama kids love her to death.

In grade ten, I took my first drama class, and I had no idea when I set foot in that classroom – late, I may add, after having gotten myself lost again – just why she had such a loyal following. As soon as you enter Halmos's Tower of Doom, as she calls it from time to time, you feel accepted. You leave insecurity and rudeness at the door, because Miss Halmos demands tolerance and politeness. After a while, you find yourself going above and being what she expects. After a while, you find yourself a member of a tight-knit family, striving to do well by Miss Halmos, the matriarch, on a personal level. There is no insolence, not only because she sends offenders to the office, but because she truly feels like a mother. After all of the kindness and love she gives out, disappointing her is the last thing any drama kid would do.

Those of us who know her struggles only appreciate her that much more. I wouldn't have had any idea how hard she has it at our seemingly sugar and spice school if I didn't have an older sister who was there to see how The Man tries to push Miss Halmos down. The drama room is upstairs, in a hallway that would be completely out of use if The Man had his way. Because Miss Halmos refused to give up a room that was not only the most appropriate – it was a sewing room back in the day, so it has a raised platform at the front we use as a stage – but symbolic of the positive world she's built up, she got on The Man's bad list. Without her room, she's a nomad in the school, forced into the music rooms – death scenes are much less fun when you have to fall onto a carpet marinated in saliva from various spit valves – or other classrooms. The drama family is still a family crawling in spittle, but sweeping an entire department under the carpet so completely was not okay. When she finally won the battle to keep her room, the war was still not over. She dutifully cleaned her own room every day as The Man wouldn't pay the janitors to do so. She scrounged for unused chairs around the school because every request she sent in for new chairs was denied or ignored. Over the last year, we saw her emerge victorious – her room is being cleaned now, and she has some beautiful new blue chairs that all match and don't fall apart – in battles she'd been waging for much longer than my sister was aware of. Although, there's always some new trouble for Miss Halmos.

My parents were amazed at my sister's graduation how many students hugged Miss Halmos – who was up on the stage to help present two awards – when they went onstage to receive their diplomas. I wasn't amazed, only proud to be part of such a caring, passionate community, and grateful to her for taking the time to touch the lives of so many grads and so many future grads.

I remember our last day of Drama last year. She had us all stand and look at the stage. She delivered a beautiful, heartfelt speech about how immensely proud and impressed she was of our progress. I think we all cried. She took the time to connect to us on a personal level, and that's why we did so well. We wanted her to be proud of us. We wanted to impress her and have that beautiful, tearful goodbye. Even those who first came into her Tower of Doom just wanting an arts credit were moved.

Not only was she a second mother to many of us, she was a teacher. Through the year we did more than just bond. We learned how to be a performer, how to act, and learned all the boring things in the curriculum from an actual actress, who made it all much less boring. Miss Halmos didn't sacrifice her duty for friends. She went above and beyond what any normal teacher would do to treat us like we meant something.

Miss Halmos is one of the kindest human beings I've ever met, and one of the only adults I've known who can still remember how stressful it is to be a teen. She's understanding, loving, and spunky. She knows what's right and fights for it. In a system in which The Man will go out of his way to make every student a number and to make every teacher a drone, Miss Halmos stands out as a compassionate and strong educator. A hero for the history books, Miss Karen Halmos is the spirit of the school, and has touched more lives than she knows. Her legend will live on, even in a school where unusual is usual.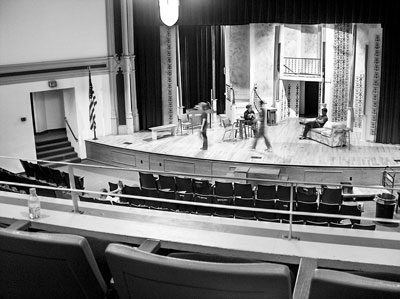 © Sean C., Princeton, IL