Samantha Morgan
April 9, 2013
All who have had Mrs. Morgan can agree: they have had no better teacher of math, science, and history in Mountain Grove Middle School in the state that's the heart of America, Missouri. Who can better describe the layers of a skin cell, or the way to find the average of multiple numbers then this fifth grade teacher?
"Not many if any," said an eighth grader who had Mrs. Morgan and who wished to remain anonymous. "Fun and witty, Mrs. Morgan can turn any school day into a fun day."
Mrs. Morgan is smart about the limited time she has to teach her students complicated math that they have only scratched the surface of in fourth grade. Most students leave her with a lifelong foundation for algebra, fractions, decimals, and more. To top it off, a math magic trick is taught to every one of her classes, one that is still remembered by her former pupils today.
"Mrs. Morgan is an effervescent yet conscientious teacher. We've very lucky to have her," says Kristin J., a homeschool teacher and graduate of Drury College.
During science, Mrs. Morgan has each student make a science journal, which includes a table of contents, pictures drawn by the students, experiments and their results, fun projects, and more. They learn much about biology in particular. The children memorize the five kingdoms and many of their branches during the two semesters they have with her, and learn things like the layers of different cells and our body's natural defenses.
"We've all been through our fair share of teachers," says an anonymous parent, "but Mrs. Morgan sticks to you for the rest of your life as the most memorable."
In history, instead of reading boring old textbooks that may have been covered in dust and locked in a closet for a hundred years, Mrs. Morgan has the pupils reenact the history of America and its founding for videos. Sometimes the students get to write commentary and record them for parts without speakers. The children are interactive and involved, and all get to be in the videos. None are excluded or discriminated for any reasons.
"She makes the classroom energetic with the way she talks," says her former student, ninth grader Katelin H.
Even after you've left her, Mrs. Morgan still loves to talk and help you out. Most remain close to her throughout the rest of their lives. She is a caring and wonderful teacher who can be strict, but is so to help you be a better person. A prominent member of Mountain Grove, Missouri, Mrs. Morgan is an adoptive parent and is well-loved among young and old.
"I used to say my mother was the best mother and my grandma was the second best, but now I have to say Miss Morgan is the second best. Sorry, Grandma!" says an anonymous high school student.
Such a wonderful person, inside the classroom and out, should be recognized and praised. Teaching history, math, science, and moral skills, Mrs. Morgan is the teacher of a lifetime. Who else can be that good?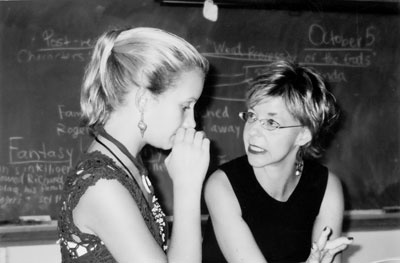 © Olivia L., Pompton Plains, NJ