Andrew Freeburg
MAG
February 14, 2013
It isn't often that you come across a cardigan-wearing high school English teacher with interests ranging from skateboarding to poetry, from heavy metal to the latest fashion trends. But Mr. Freeburg, my AP English teacher, is quite the interesting character. When students can't wait to get to a class at 7:30 a.m., you know that teacher has something special.

I have always had a love for English, but I never imagined being taught by someone as engaging as Mr. Freeburg. Every student participates in class discussions, and we are encouraged to share our ideas whether they are right, wrong, or in between.

Before Christmas break, we all brought in embarrassing photos of ourselves, exchanged them, and wrote a poem based on the photos. In turn, Mr. Freeburg unabashedly showed us embarrassing photos from his teenage and college years each day the week before. One day the picture was of his blonde flowing mullet; the next was a picture of him in pink short shorts. Educational yet fun activities like these are what make the class feel like family.

Mr. Freeburg constantly finds outside examples to enhance what we are learning in class. When we receive entertaining e-mails connecting literary terms to movies and articles, I know that learning doesn't need to be boring (and it never is in Mr. Freeburg's class). He shares stories from his graduate school classes, and his ­professor – a professional poet – even ­visited our class at the end of the semester. We read the his poems, applied what we were learning in class, and discussed them with the author, a once-in-a-lifetime ­opportunity.

One of Mr. Freeburg's best traits is the attention he pays to individual students. He goes around the classroom and does a "weekend roundup" of our plans every ­Friday. He is truly interested in us. Most importantly, he encourages every one of us. If a student says something earth-shatteringly brilliant during a discussion, he karate chops the artificial cherry blossom tree in the corner, jumps around with excitement, and gives the student a key from his box – the symbol of the ultimate scholar. And when he noticed I was working on a poem for a literary contest I learned about in his class, he screeched, "POEM!" He asked to read it and then said, "You are a true ancient poet." I laughed, but I knew he was sincere when he told me that I had talent and should keep writing. And I haven't stopped since.

At the top of one of my papers Mr. Freeburg wrote: "Reading this essay was like being dipped in gold!" Funny yet encouraging feedback like this helps me feel confident that I can exceed expectations. That is what learning is all about.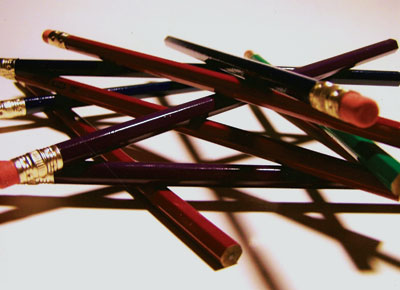 © Nicholas K., Weldon Spring, MO