Miss. Downing
February 14, 2013
The stereotype I had always held of study hall teachers was instantly altered when relentless laughter echoed through the entire commons, shamelessly released by Miss Downing. When I first met her, this expressive woman acted as if we had known each other for years. For awhile I thought I had my infamous "winking face" that I did in my ID picture to thank for that icebreaker moment, but our instant relationship had more to do with Miss Downing's ability to immediately connect with others than with my self-deprecating photo. The fact is her warmth is so pervasive that ice breakers aren't necessary.

Miss Downing knows how to connect with kids. She knows how to make us feel genuinely cared about. The reason she's so good at that is because she really does care about each one of us. It's blatantly obvious by the pictures of both past and present students that she has proudly displayed on her desk.

At the beginning of the semester, I got to know Miss. Downing as a loud and funny person. But as the semester went on, I saw different sides of her. She's got an infectious personality that you can't help but have a good attitude when you're around her.

A bad day is nothing Miss. Downing can't handle. I learned that first hand. She didn't even know that I was having a rough day, but still found a way to cheer me up. Miss. Downing makes random acts of kindness sometimes not even knowing she is, but never expecting anything in return. Whether it be just random compliments or buying me a bag of peanut M&M's (which I kept just for a reminder of how awesome Miss. Downing is).

When she found out about the Sandy Hook Shooting, it became apparent the love she has for people. Her silent tears made it obvious that her empathy was genuine. Miss. Downing is an amazing impactful teacher and friend.

This may sound more like a "Best Person" award rather than a "Best Teacher" award. But the truth is, it takes a great person to make a great teacher.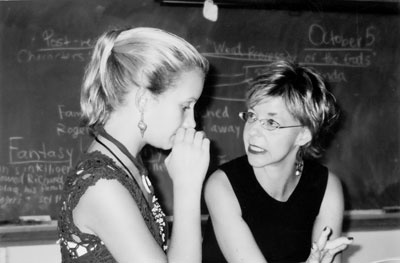 © Olivia L., Pompton Plains, NH