The Greatest Teacher a Kid Could Ask For
December 2, 2012
Growing up, we all have that one teacher throughout school whose class we love going to and thinking that when we grow up we want to be like them. My favorite teacher has changed every year of my education because I find one teacher that's always better than the last. The more I think about it though, the more I realize that the teacher who keeps changing is the second greatest teacher of my life.

My all-time favorite teacher though is my junior high band director, Mr. Hepford. The summer before my 7th grade year, I started taking drum lessons with him. I didn't like him at first because he was a new teacher and I didn't have the chance to actually meet him. He always challenged me to new levels of music to see what we could work on together. He saw that I could play a lot of different rhythms, notes, and melodies so he decided to step it up a notch. When the school year started, he knew my playing ability and gave me some of the best parts.

Starting in 7th grade, he told me to perform a solo in a competition. I wasn't sure about doing this because I had only been playing in band for three years and still wasn't confident with my playing skills. He helped me through the music though, and, sure enough, I performed it. After the competition, he told me that I earned a 1 rating, which is the best score. When I heard that, I was super excited! If it were not for him telling me to perform, I wouldn't have done it!

In my 8th grade year he told me to audition for the John Philip Sousa Junior Honor Band, which again, I didn't feel comfortable doing. Just like the solo I performed, I auditioned anyway and got an email a month later saying that I made it. I repeated the process in 9th grade and was placed in the top band! My band director helped me get through every solo, every audition, and every concert with me feeling like I did the best I could.

Throughout my band career, I have gotten into the John Philip Sousa Junior Honor Band two years in a row, nominated for freshman district, awarded 3 top ratings for a solo, and am now currently playing with the Kansas City Wind Symphony all thanks to Mr. Hepford. I truly believe that he has changed my life because I have become more and more interested in music. I have gotten more comfortable in my playing because he inspires me to audition for everything that I possibly can. He has pushed me so much to the point where, looking back, I never thought I would make it this far. Never in a million years would I have pictured myself playing with the best group in Kansas City as a 15 year old!

Mr. Hepford isn't my favorite teacher just because he has pushed and helped me accomplish so many challenges throughout my life, but because of that certain bond that we have. We have a bond to where he's still a teacher, but we make fun of each other. When I have a lesson with him, we will just laugh and goof around but still be serious when it comes to the music. He always has such a great attitude about everything and is always willing to help his students. I have enjoyed taking lessons with him because he is a percussionist like me, and I can trust that he knows what he's talking about.
Mr. Hepford has inspired me and my future. I knew that he played at Carnegie Hall while he was with the KC Wind Symphony and when he asked me to play with them this year, I couldn't say no! It was later that I found out that I would be performing at the Kauffman Center in Kansas City, Missouri come March. Everybody has to start somewhere and I figure this is my starting point. He has showed me that no matter what, you have to push yourself to do the best you can no matter how hard life can get. Even if you don't make the best band, or get a good rating on a solo, you have to keep improving your skills and not trying to be the best of the best, but to the best of your playing ability.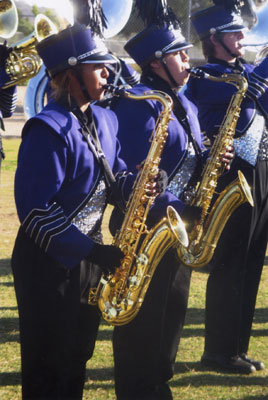 © Laurie R., Phoenix, AZ