EOY nomination 2012: Brent Thorpe
April 30, 2012
Have you ever had a teacher who would let you dance to Michael Jackson on top of the tables? Have you ever had a teacher sing Solider Boy with you in class? Have you ever been accidentally late to class and your teacher given you a lollipop anyway? I have had a teacher like that.

In 6th grade, I signed up for band not knowing anything about playing the flute. Since I was beginning middle school, it was my first day and I had no idea where to go so I walked in late. I expected to get sent to the office for a late pass but I was greeted by a warm welcome and an exception of being late. I sat down and looked around and saw everyone looked the same way I did, scared and clueless. A man walked up to the podium and greeted us warmly. His name is Mr. Thorpe.

Mr. Thorpe was a very cheerful and welcoming spirit. He always welcomed you with a big smile and usually a hand shake. At that time to me in 6th grade, he was just another teacher to me. Little did I know he would be like a 2nd father to me. Also at this time he was new to Stanton Middle School. He was young, so he can relate to you in anyway. He listened to the same kind of music as us so we would have classes where we would have dances or karaoke. He was an amazing band teacher. I learned and memorized all the notes on the flute in a week. Whenever you would ask for help, he wouldn't go away until you go it down, even if you told him to.

Determined, a word that suites him. He was determined to get us to play. There were many classes where we would be disrespectful and not play at all. If he could, he would have just walked out, but he didn't. He stayed and kept a cool temper. We really made him mad, and if I could I would go back in time and change how I acted towards him. He was like a 2nd father to me. In 7th grade I was in a really dark depressing time of my life and I would come into band crying and wouldn't play at all. He would let me rest my head and sit in his office, away from the loud noise. Then after class he would take me aside and sit in his office and talk to me about it. At first I didn't feel comfortable talking about my problem to a band teacher, but I opened up to him and he became a father to me.

A father of an adopted child, a band teacher, a husband, and a friend to me, all describes Mr. Thorpe. Thanks to him, I know how to play to flute and deal with my problems in a different and healthier way then before. A heart break came to me this past 8th grade year, he left. We got stuck with a not so good band teacher who was nothing like Mr. Thorpe. Honestly I was mad at first for leaving us, but I learned that he went on to a better job; he went from a band teacher to Dean of students. I for one, think that's a good jump, considering he needs money to take care of the little angle he adopted. I will never forget Mr. Thorpe, no matter what. He changed my life and I miss him dearly, one day I hope to run into him again. Ask anyone, he was the best.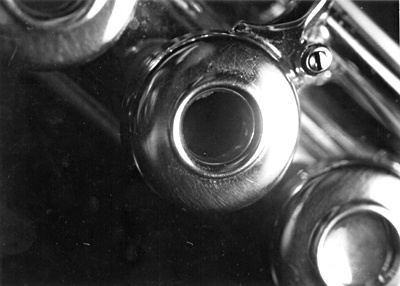 © Roslyn A., New City, NY