Teacher of the Year
April 27, 2012
I go to the Delaware Military Academy which is a military oriented school. We wear the actual Navy uniform, the only difference being the NJROTC patch on the sleeve. We learn military drill, the customs of the military, good academics, and get the good discipline that comes with it. We also take tests to get higher in military rank. The head of this is the NSI's (Naval Science Instructor) who are the so called teachers of this.. They were all in the military at one time and there are two instructors per grade. I am a freshman and my Naval Science instructor is Gunnery sergeant Lemke aka (Gunny) who I am writing this paper on.

Gunny is a former Marine Drill Instructor. He was a DI at the notorious Parris Island. Let me tell you it is nothing like Paris at all. I used to go to Saint John the Beloved which is a very prestigious catholic school in Delaware. I had always been interested in politics but never even thought about the military. I ended up here due to the fact that the choices of schools I had to pick from were Sallies, St. Elizabeth's and DMA. I said I never wanted to go to Sallies because it was all boys while St. Elizabeth's was more for the money in my opinion. The only choice for me was DMA. When I came to the school I ended up liking the military customs and traditions therefore giving me a step up above everyone else. One person who helped me get motivated about the military was Gunny.

Gunny since the beginning of the year was very funny and entertaining. It seemed like he always had a funny comment to say to everyone and about everything kind of like my grandfather. These comments are always said light heartedly with some humor added to it. Another thing I appreciate about him is that he is respectful to everyone and on the other hand can discipline at the same time. He can be nice the whole class yet when needed can snap into disciplining us. The last thing is that he has an outstanding outlook on life. When he wakes up in the morning and people ask him how he is doing he responds with, " I'm here which makes it a good day". He says everyday is a good day as long as he wakes up. That is a great attitude and outlook to have on life and is exactly what my grandfather says.

I picked Gunny due to the outlook he has on life, the personality he has fits me, he reminds me of my grandfather, and lastly he is a very nice person. He has the same sayings and English like my grandfather says for example:
Q: When do we get our unit service ribbon?
A: Second Tuesday of next week.

OR

Cadet- Well
Gunny- That's a deep subject

OR

There you go thinking again

AND LASTLY

One time I asked when are we getting promoted and he said (like my grandfather would say) "I ain't promoting nobody no more" due to spur of the moment anger at the miss behaving class.

These are just funny things that he happens to say like my grandfather which I don't hear very often. Another funny thing he says that stands out to me, show us how big your fish was while sitting next to kids. These are just memorable moments I can remember during class while I am sure there are many more.

In any event I nominate Gunnery Sgt. Lemke for the teacher of the year essay. I have had a lot of good teachers in my years through grades all being good but Gunny is one of my favorite!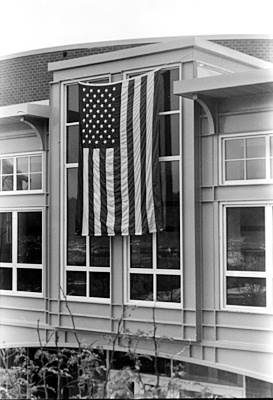 © Chuck K.,Marblehead, MA