Music Teacher • Skyline Middle School: Nicholas Ronaghan
MAG
April 30, 2012
Whenever someone mentions the time we spent in Skyline Middle School, some part of my mind always goes to my memories of the chorus classroom. There we were taught by everyone's favorite teacher, Mr. Ronaghan. There, we laughed at Mr. R.'s ridiculous tales of misfortune. The most typical classes were always extraordinary, and we never really knew what to expect. We learned to push ourselves individually to accomplish impressive feats as a group. We came together as students who shared a common interest: a love of singing.

Walk into the classroom on an average day, and this is what you will probably find: On your right is a bald red-faced man banging away on a piano conducting warm-ups, shouting, "Louder! Make your vowels taller! Project! BREATHE! This is the last time." To your left, a choir of 40 middle school kids are be singing, producing a higher quality sound than you'd expect. "I lied! One more time! Again!"

Then the piano playing ceases with "Good job! Today we are going to work on 'The Water is Wide.' This is a slow, mournful piece. Sing it with tall vowels and watch the endings on i's." These may sound like adult instructions, but one thing Mr. R. never does is treat his students like kids. He never babied us and always pushed us. Mr. R. continually challenged us to improve and to give people a reason to treat us as more than just middle schoolers. What we accomplished in that classroom gave us a sense of self-worth.

Some days we had what Mr. R. called "story time." We would take our places in the room, and balanced on a little gray stool, Mr. R. would share with us his latest afflictions, of which there were plenty. Mr. R. has had what one may call "more than his fair share" of misfortune. Besides suffering from alopecia, which caused him to lose all his hair at age 16, things in general just never seem to go his way. Despite his misfortunes, he always finds a way to put a positive spin on things; even his baldness. His final gift to us as eighth graders was to see a picture of him when he had hair, a source many jokes during the three years we spent in his class.

We never stopped pushing ourselves, largely because Mr. R. never did either. He worked so hard for everyone around him. On any given day, you could bet that Mr. R. was staying late before going to his other job as a church choir director. Everything he did was to help someone else. Our school's grand piano used to be his until he donated it. He also built the folder racks to hold our music.

Mr. R.'s incredible drive to constantly achieve is hard not to admire. Each year, one of the school's proudest moments is the spring concert. Mr. R. does his best to make it a professional ­concert, and when we start singing it's hard not to imagine we are at one. All of our year's work comes together, and for an hour we impress the audience with our skill. Singing pieces in German, Hebrew, and Latin, our voices fill the gym with sound. Cut-offs are clear and the tone quality is stunning.

During his years of teaching us, Mr. R. tried hard to instill some basic values in us. Through stories, he taught us to see the bright side. By his actions, we learned to care more about others and to constantly push ourselves to help everyone around us. If I could have one wish, it would be that Mr. R. could know how much he means to his students, because he would be in awe.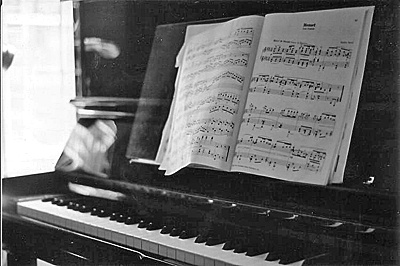 © Amy C., Portland , ME