C.T. Lyons
April 24, 2012
Before coming to DMA (Delaware Military Academy), I would never guess that my favorite teacher didn't teach there. My favorite teacher and my nominee for Educator of the Year is C.T. Lyons who is the disciplinarian at John Dickson High School. C.T. was my high school swim coach this year and hopefully years to come. He coached the men's and women's teams. C.T. taught me more than just swimming.

First, C.T. is one of the best coaches in the state of Delaware. C.T. coached our team to an undefeated season. Our team also won 2 out of 3 relays at High School Swimming State Championship thus propelling us to a 3rd place finish. DMA had only 8 swimmers at championships compared to the 1st and 2nd place finishers who had at least 20 swimmers. His coaching is only a small part to why he is my choice for the Educator of the Year.

Second, C.T.'s most important attributes are away from coaching. He was always energetic. When I was tired from a long day of school, his energy would get me excited to get into the pool. C.T. also was always determined to win. This meant a lot to me because I wanted to win just as much as him.

Third, C.T.'s energy brought out other qualities in him. He was always extremely positive. He always cheered on a less-than-stellar women's team. C.T. also created personal bonds with all his swimmers. C.T. was more than a coach to us because he was fun to be around.

Finally, one attribute stood out the most to me. C.T. was extremely dedicated to the team. He devoted his time to the team while having a family at home. He put our team first. In my first year, I already know that I want C.T. to my coach at DMA until I graduate.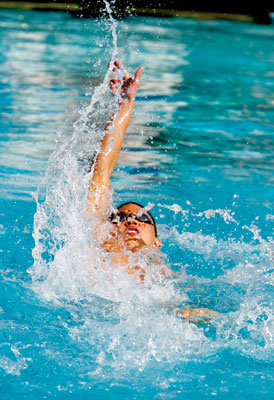 © Wenting C., Fremont, CA