My Teacher, Mrs. Kim Hwang
April 21, 2010
Someone once said life is like a winding road. If that is true, then teachers are the signs that guide you and give direction along each turn. They sacrifice a lot to give their students the best education possible.

My nominee for educator of the year is someone very special to me. This teacher has the biggest place in my heart. She has taught me many lessons throughout my life. Even when I am out of school, my special teacher still teaches me. In fact, she has taught me many lessons since the day I was born. My special teacher is my mother, Mrs. Kim Hwang.

I grew up in a warm and loving family. The oldest of five children, my parents' decision to home school their kids started with me. I have been home schooled since preschool up to freshman year of high school. My mom has been my primary teacher, as I do take some classes outside of the house.

In all the years of my life, my mom has always worked hard to take care of her five children. At home, she strove to make sure I got the best education, to blossom not only academically but also spiritually and emotionally. As a Christian mother, her concern was focused most importantly on our walk with God, and everything that resulted from that. She also is naturally gifted with children and teaches at our church and local co-op. Once, I was walking in the church hallway with her. All of a sudden, this little boy came barreling down the hall and wrapped his arms tight around my mother's legs. He screamed my mother's name and ran excitedly to his own mother. "See mom, this is my favorite teacher!" I saw the love and adoration in his eyes and realized how loved my mother was, not just by her own family but by everyone else. However, my reason for nominating my mother for educator of the year is because of all she has taught me this past school year.

This past school year was hard for both of us. It was my first year in high school and my mother spent a lot of time laying out her plan for me through high school. Despite the needs of the other four siblings, she singled out special time to talk to me about my future and plans. She put a lot of energy into making sure I got different experiences this year, from volunteering at the local soup kitchen to talking to family friends about going into the fashion business. Even though it was tough for her to travel around, while lugging the rest of the family, she sought to give me the best this year.

For me, this year was tough. My personal life affected my academic life a lot, and I can say I honestly did not work hard because I was distracted half the time. My relationship with my mother became strained and it was hard for us to communicate properly.

It is especially hard to live with someone 24/7 and have to see them as a teacher and as a mother. You can't be mad at your mother/teacher a lot or else you won't really learn anything. And you can't be mad at your teacher/mother a lot or else you won't have someone to talk to!

I believe I really put my mother through a lot this year. I caused her to cry a lot and probably broke her heart halfway there. When I couldn't deal with it, I ran away from home. Even if I lived my life a thousand times, I probably will never able to say sorry enough. But she was always patient with me and waited for me to turn around. I'm still working on my life and fixing up the pieces. However, I would not be able to do it without my mom.

Regardless of excellent academic lessons, the impressions she has left on my life will stay with me forever. She taught me the most important thing a woman can give to another girl: she taught me how to be a mother. In my future, I hope that I will be half as amazing as a mother as my mom. She not only taught me, yes, she did give me two hour lectures, but she also lives out what she says. She demonstrated the powerful message of the gospel that she has taught me for many years through her own love. Even though I deserted our family and hurt them deeply, instead of walking away, she chose to forgive me and still love me. There will be no other teacher in my life who can teach me that.

Although I will be attending a local Christian school next year, my home school experience has benefited me in indescribable ways. Her academic lessons will help me throughout high school and in the rest of my life. I know I have received a high quality and strong education. Even though my choices in life overshadowed the full potential I could have reached this year, my mom chose to believe in me and encouraged me to keep pursuing my goals. She never gave up on me and has loved me through every single second. I love my mother and even though we argue, each moment at home has been cherished. I will miss our home schooling days. For her excellent academic lessons, her perseverance in me, and never giving up on me, I would like to nominate my mother for educator of the year.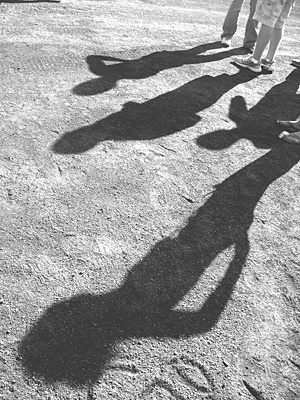 © Trella R., Mountain Lakes, NJ