Mrs. Maynard
March 11, 2010
It was a chilly Tuesday morning. But this was no average Tuesday. This was the first day of school. I was up bright and early standing outside, anxiously waiting for the school bus. I was anxious because I knew all of my long lost friends were awaiting me.
My friends and I were talking about how today was going to be one of the most dreaded days, yet amazing at the same time, because today was the day something would change Our lives forever. This something is actually a some one. And that some one is Mrs. Maynard.

In the eighth grade, life is still a question. Everything is a big question. Mrs. Maynard was that one person who showed us the ropes; she was the person who showed us our place, and explained why you were here. She was our friend, parent, advisor, and for me, teacher.

Mrs. Maynard sets the tone of success, the light at the end of the tunnel, the help that everyone needs and deserves. She is there through thick and thin, and until the end she has always been there for me.
She is the one that taught me that ten squared was one hundred. She taught me there are three different types of there. Best of all, she had a deal that if we as a group got all of our homework turned in by Friday, she would go out and buy us McDonalds.
I never thought school would have ever been this interesting until I had a teacher. But not a teacher, a friend, such as Mrs. Maynard.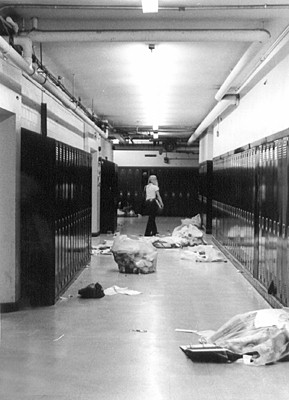 © Halsey S., Marblehead, MA