Intensifier
December 15, 2009
I've always had a love for words. From the simple to the complex, words make up the world that surrounds us. They express our feelings, they paint stories, and they tie our actions to our thoughts and then our thoughts to our feelings. What we can do with words is limitless; the only setback is ourselves and our inability to use them. The person that taught me how to use them changed my life.

Mrs. Kauffman doesn't necessarily look like your typical teacher. She's not the kind of person that commands attention with their simple presence. She's a runner, and will be more than proud to tell you so, and to be honest, she's a tad short. Though she doesn't look like one, she is a teacher indeed. I first had her for my junior English class and despite the fact that she inflicted books like The Adventure of Huckleberry Finn, I really enjoyed the class. But the way she changed me was not through her English class, but instead in her small first period class that's only one semester long.

My Creative Writing class only had eight other people enrolled besides me, but we couldn't be more diverse. There was the student council leaders, the marching band flute players, the off-beat kids in the back of the room, a Beatles obsessed flower child, and of course, me. In any other class, this group might not work, but Mrs. Kauffman brought us together with something we use everyday: words. She taught us to appreciate all types of poetry, even the ones that were tougher to love, like villanelles. She also taught us to appreciate the more unusual genres of writing. But more importantly, she taught us to be strong.

Teaching us to be strong wasn't exactly on the lesson plan; it was sort of a spur-of-the-moment add-on. Sometime mid-semester, Mrs. Kauffman announced to us that she had been diagnosed with breast cancer. Instead of falling apart though, she stood tall and firm. She still made it to school to teacher when she could, she still ran when she felt like it, and she still managed to teach me how to use the words that I had heard all my life in a new way. Though she didn't mean to, Mrs. Kauffman taught me and the entire class something much more important than Creative Writing. She taught us to run while you can and to just take what you're given.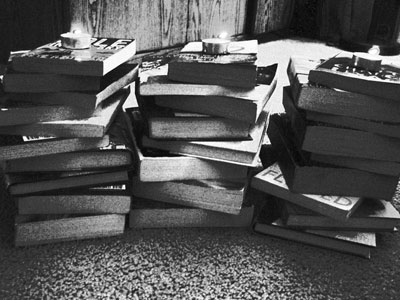 © Alexis R., Clarkdale, AZ