Phyllis McPherson, Librarian
MAG
December 14, 2009
All my life I have loved to read. Ever since I learned the alphabet, I've had my nose in a book, whether I could really read it or not. My love of books followed me through elementary school. By the time I hit middle school, reading was all I ever did, with homework and band practice coming second.

Needless to say, the library at my middle school was my favorite place to hang out. The books were a big part of it, of course, but the real reason I loved it was the librarian, Mrs. McPherson. Her love for books radiated from her. It was obvious that there was nothing she would rather do than help students find books to enjoy.

The more time that I spent in the ­library, the more books Mrs. McPherson threw at me. Wicked: the story of the Wicked Witch of the West. Twi­light: a love story between a human and a vampire. Daughter of the Forest: a tale of a girl trying to save her brothers from a terrible curse. "Here," she'd say. "You'll absolutely love this one." She'd then hand me a book picked especially for me. I discovered worlds through those books I never would have known without her.

Mrs. McPherson's favorite day of the year was Earth Day. She got almost as enthusiastic about that day as she did about her job. Every year she'd talk about Earth Day weeks before it arrived. She would put up posters filled with green, recycle, and never, ever drink bottled water. When Earth Day finally arrived, she got more excited than anyone you could ever imagine. She'd wear the same T-shirt every year that featured a colorful drawing of the world. Watching her celebrate Earth Day, it was difficult to imagine that some hadn't heard of the holiday.

Mrs. McPherson loved her job; that was obvious. She worked on the computer, read books, and sat at her desk in the quiet library while middle-schoolers wreaked havoc on the other side of the library doors. The peace and quiet of the library, the books that surrounded her, and the joy she got just from doing her job made me realize that the gratification she obtained from her profession was something I needed in my life. As my two years of middle school ended, I knew exactly what I wanted to do with the rest of my life. I wanted to become a librarian.

Four years later, as I approach the end of high school, I still have that dream. Though high school activities like band and choir have taken up a lot of my time the last few years, reading is still my favorite pastime. I think even if Mrs. McPherson hadn't played a huge role in my life, I would still love to read. However, I wouldn't know the path that my life is meant to take. I owe that knowledge to Mrs. McPherson.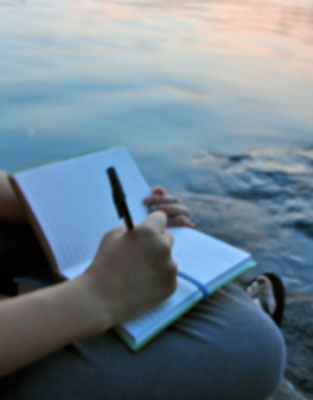 © Grace K., Port Washington, NY