Coach Crow
October 30, 2009
Educator of the Year: Coach Crow

In complete honesty, his teaches didn't encourage me to want a career in math, didn't make me want to major in it, or to make me love the subject anymore than I didn't, but he did help me better understand the subject and the infinite and seemingly useless formulas it contained by always offering a helping hand. Coach Crow was not only my Algebra teacher in ninth grade and my geometry teacher in tenth grade, but also a football and swim coach and he also helped out with the softball team for New Caney High school. He was more than just a coach or teacher to most of us, though, he was a man that invested in our lives.

The two school years I was with him, I realized we followed the same pattern. A warm up one day and a worksheet over what we had learned in that warm up the following day. Although, this seems repetitive and boring, it wasn't because he had a sense of humor that he used when he taught us math strategies and a comical attitude towards everything. Coach had math methods that would help us remember things because we were either able to picture a drawing in our head that he had taught us or remember something he said that made us laugh. Consequently, the students could recall concepts using the positive and negative cloud and the chicken lays the egg method. Yes, his teaching style was more unique than most teachers because he kept our attention on what we were learning by approaching math problems in a different, humorous way. Though his delivery was often funny, he was also serious about our education. If the students listened respectfully to him during class, then he would return the respect. After explaining what we would be learning, he would allow people to ask him for one on one time. I don't recall him ever getting impatient with any student and was never easily frustrated. Some teachers have the rule of: "You hear my directions once and you should get them. If not, I'm not repeating them because that means you were not listening", but Coach wasn't like that. Not only was he helpful in the classroom, but he was also helpful about life skills we could use in the real world. He was always able to strike up conversations with students about their future in particular me. We talked about college, making the right decisions, not being like this or that, or just how I should carry myself in general. He not only encouraged me, but also other students as well. I recall one boy named Richard, or as Coach Crow nicknamed him: Big Rich. He was not accepted by the majority of the judgmental, high school crowd, but Coach accepted him and praised him in a way that helped him develop confidence and helped him have a better self esteem. Now, he doesn't listen to negativity anymore and "walks taller" in the hallways. His two years in Coach's class were life changing for Big Rich. He could be like a personal counselor to anybody and was always willing to reach out a hand to anybody. Coach's impact reached across the campus. He accepted everyone and never made any judgments. Along with being an educator and a student psychiatrist, Coach Crow was also a Coach. He was the wide receiver football coach and the head coach for the swim team. Then, on days when the softball team played at home, he would help them out, encouraging them through the microphone by playing their favorite songs and announcing their names so the audience could hear. I am positive that he encouraged athletes out on the field just as effectively he did students inside the classroom.

Coach Crow is not the educator of the year because he made us laugh in class, or he helped us plan our futures, or because he taught us strategies to help us remember mathematical concepts, but, because of how involved he was in the school and in the student's lives focusing on what was in their best interest and no matter the situation, and listening when someone needed to get something off of their chest. That is why Coach Crow is the educator of the year. Unfortunately, Coach Crow no longer teaches at New Caney High school anymore; he has moved back to Dallas to touch students' lives there, but Big Rich and I still communicate with him and hope to continue to keep in touch with him just in we ever need to be picked up when we're feeling down. I know Big Rich and I along with every other student who was encouraged by Coach Crow not only gained a math teacher or a coach for those two years he taught at NCHS, but also a best friend.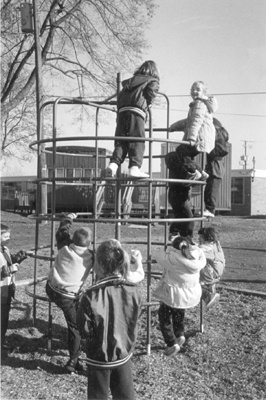 © Danielle H., Jonestown,PA