Michael Reynolds
MAG
April 30, 2009
I'd never before had a teacher who asked his students to illustrate the ending of "Beowulf," or draw pictures of Samuel Taylor Coleridge's "Kubla Khan" on the blackboard, or make up Mad Libs for Lord Byron's "When We Two Parted," or act out a tableau for John Keats' "Ode on a Grecian Urn," or visit the cemetery of our Xaverian brothers to read Thomas Gray's "Elegy Written in a Country Churchyard," or perform a reader's theater with Alfred, Lord Tennyson's "The Charge of the Light Brigade." But the most interesting assignment of all was yet to come ….

"I noticed the schedule for this week says 'March Madness with Romantic poetry.' What's that?" one student asked.

"I don't know …," Mr. Reynolds said evasively, his eyes failing to hide his amusement. He knew that since many of the students in my all-boys school are sports fans, we would enjoy paying homage to one of the most exciting months of the year.

On Friday the 13th, Mr. Reynolds walked into class with the brackets tucked under his arm and started passing them out. A grid of hand-drawn lines lay before me, with a column containing names of poems. The lines were intended for the advancing winners of the match-up pairs. The number of lines per column decreased each round until there was just one space left for the champion. My classmates and I quickly reviewed the poets and then set about picking match-ups we thought would "win." The poem with the popular majority would advance to the next round.

I cleared the first round, picking 11 out of 12 match-ups correctly. I had selected Percy Shelley's ­"Ozymandias" as my champion, and I ­excitedly watched it advance to the third round of voting. Unfortunately, that was as far as it went, losing by an overwhelming majority to Samuel Taylor Coleridge's "Rime of the Ancient Mariner." Although I was not the winner that day, I have not forgotten how much I enjoyed that lesson.

In addition to his excellent work inside the classroom, Mr. Reynolds leads a stellar life. He is a member of the Campus Ministry team, a group of faculty who provide emotional and spiritual support to students, arrange service opportunities, and direct retreats. He's also the director of the Xpress theater program, a traveling improvisational children's acting troupe, and the ticket sales manager for the school's theater.

Mr. Reynolds also volunteers at the Ronald McDonald House. He and other faculty members bring food and cook dinner for families of patients at Kosair Children's Hospital. He has assisted there for three years. Mr. Reynolds serves his students, friends, and society before himself.

I had the privilege of having Mr. Reynolds as one of my leaders on a retreat. During the four-day event, Mr. Reynolds gave a speech on God's friendship. He segued from tangible relationships with family and friends to the more intangible relationship with God.

"My mom," Mr. Reynolds said, "taught me the most about myself."

I can relate to that, I thought.

"Probably the most important thing that she taught me was humility."

He then went on to mention every one of his students at the retreat. It was a moving moment when he recognized me for my humility.

Mr. Mike Reynolds teaches with flair. Despite graduating from our high school 15 years ago, he is able to relate to 17- and 18-year-olds and understands a teen male's humor and feelings. After he finished his education to become an educator, Mr. Reynolds decided to return to his alma mater and empower the young men of the future by providing them with a strong background in English and a different role model than what is presented by Hollywood. As a teacher, he is always prepared, posting a schedule detailing the week's activities every Sunday. Above all, he is creative, especially when it comes to planning classes.

During my high school career, I have been blessed with many amazing teachers, not only based on their credentials but also on their personal qualities and passion for teaching. Every year, I think that my teachers are excellent – and they are – but this year's champion is definitely Mr. Reynolds.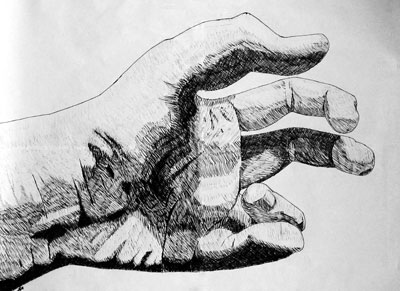 © Luke S., Montclair, NJ