The Unforgettable Mrs Funke
April 5, 2019
Trisha Funke
Lake Country School-5th Grade-11 years old
I've had tons of teachers in my lifetime so far-but out of all of them, there has been one teacher that really has just made a mark on me. Mrs. Funke; shorter, young, shoulder length blonde hair, always dressing in the newest fashion, she was the teacher everyone wanted. Every Lake Country fifth grader was buzzing about wanting to get her as their teacher, I was just one of the lucky ones who had it happen. I specifically remember when the class lists came out and all my friends and I were so amazed that we all got put in the same class with Mrs. Funke. She had this radiant glow around her, that made all the kids love her and she had even got some of the most uncontrollable boys to pay attention, which was very impressive.
Mrs. Funke was one of the most approachable people I have ever met. She was someone who I could come talk to whenever I needed something, whenever I needed extra help; she would give up her own personal time to help me and any other students who needed it. She was one of the easiest people to talk to and I felt so comfortable to do so. So comfortable that my best friend Celia and I would go in every lunch and eat with her, not because we had to because we wanted to. We would laugh, gossip, talk, anything we wanted to, she made coming to school actually fun-and going to school as a fifth grade student, you wouldn't think it would be fun, but it was.
There was a specific time, when Mrs. Funke had made myself step out of my comfort zone, and I am not really the type to do this, so having her helping me with this made it 10,000 times easier and it felt normal. She had made Celia and I stay in for recess and help her clean around her classroom. There was something that everyone knows me for, and it would be that I would never put my hair up-it was always down. My friends would always try to braid it and tell me to leave it in, but I would consistently take it off. It just was not my type of style.
Our whole grade would have to do plays and "musicals" forsay, we had this one coming up for the whole school and all the parents. In this there was multiple dances, with different groups of people. I got put in the group Cotton Eyed Joe, so as you can probably tell it was western theme. All the girls were french braiding their hair, and of course, all the girls wanted me to french braid my hair, but I was very persistent with my answer of no. When Mrs. Funke made us stay in to "help her clean", she actually just wanted me to come in so she could braid my hair, she never needed our help cleaning-she only wanted to braid my hair. She would always say to me, "Autumn your hair is pretty, it's just asking for me to braid it".
After many, many no's throughout the year, she finally had convinced me to french braid it. In the long run, I was glad I finally let her, because of all the laughs me, her and Celia had shared in the moment. After the recess bell rang, it was lunchtime and my hair was still braided, she wanted me to leave my hair in for our rehearsal for the play after lunch. So finally I had worked up the confidence to walk to lunch, I walk into the lunch room and two of my guy friends stood up on their lunch table and started clapping for me and chanting my name. I ran into the lunch line and when I got out, every person and I mean every single person in my grade had stood up and started clapping for me, because my hair was braided.
When I went to sit down, I had turned around and there was Mrs. Funke with a delightful smile on her petite face, and she was so proud and all she ever wanted was for me to feel comfortable with the braids in my hair. All I ever thought was that people were going to think different of me if I wore braids, because I never had before. Mrs. Funke was the one to push me out of my comfort zone and till this very day, I will never forget that moment-that made my Lake Country career mean something to me.
Such a simple thing; braiding your hair. But that simple thing had meant the world to me and I know it meant everything to Mrs.Funke. She was the person who wanted everyone around her to feel good and she always put others before herself, and that is what made her feel good. I will never forget when I saw my name on her class list and how it has made the most powerful impact on my life and not to forget the best memory.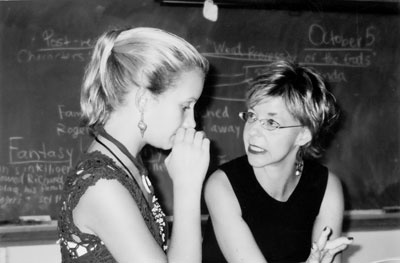 © Olivia L., Pompton Plains, NJ