Educator of the Year
April 5, 2019
As I walked to my first pre-calc class of my junior year, at Arrowhead High School, I was scared. Just another math class I'm going to have a hard time in with a bad teacher. I took my seat and saw my teacher Mr. Hessler, standing at the front of the room with a red Arrowhead Baseball windbreaker, khaki shorts, and tennis shoes on. Yeah there's no way I'm going to be able to ask this guy for help.
Every day he stood outside his door and greeted me with a, "Hi, hun" and a smile. I wasーhonestlyーa little taken aback. Mr. Hessler's kind of cool… I had made a judgement based on all my past math teachers that he was going to be like orange juice and toothpaste together, absolutely terrible.
A new quote would be up on the board every day inspiring us, making us laugh, or telling us it was Friday. Whether it was an Albert Einstein quote letting us know that everyone asks questions, or a famous athlete with words of wisdom, I always admired and took these quotes with me throughout the day.
Being a golfer, I missed a lot of school in the fall, so I had to ask Mr. Hessler when I should make things up or when I needed help with a lesson I missed. I remember nervously going into his empty classroom and asking him a few question and letting him know I would be missing class the next day.
"Oh! That's fine hun, anytime you can get it done before Friday is fine. Where are you playing?"
I was surprised by his interest in golf (since nobody is interested in golf) but I gave him the name and where it was. He asked me follow us questions about how the team was playing and what the par was at this course and we had a really great conversation. After this I was always excited to go to pre-calc.
He asked me randomly from time to time how golf was going.
"Really good! We're on the road to state!"
He asked where I thought of going to college. I said, "I want to go to Carroll University." I also told him what I wanted to major in. "Carroll has a really great nursing program so that's why I want to go there."
He would always remember my answers and ask me about it later in the year.
I began to realize that some teachers actually care about what's going on in my life. Mr. Hessler cares about every one of his students and makes an effort to get to know each one personally. I would hear him asking other students how things were going and questioning them about sports, siblings, and college. He is one of the most genuinely interested teachers I've ever had the privilege of knowing. He is accommodating, dedicated and encouraging. I was always engaged and laughing in his class. His sincerity and interest made me feel important and not just another one of his students. Mr. Hessler taught me to like math again. He taught me that teachers care about their students and what's going on in their lives.
I earned a B+ my final semester with Mr. Hessler and I cried with excitement. I hadn't gotten a B+ in math since freshman year, and I was so grateful to feel smart again. For all this time I felt so unintelligent until his class. I am so appreciative to have a teacher that enjoyed teaching in a way I understood. I don't think Mr. Hessler knows how much he impacted me.
When I told Mr. Hessler I wouldn't be taking his AP Calculus class and instead would be taking AP Statistics my senior year at Arrowhead, he said, "Well that's what you're gonna need for nursing anyway!" with the wave of a hand.
I was sad to say goodbye to the teacher that taught me so much and helped me enjoy math again. To this day, any time I pass his classroom I always say "Hi, Mr. Hessler!" and I get back a "Hey, hun, how are you?"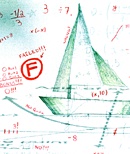 © Steven R., Binghamton, NY