Author Nathan Hale
October 16, 2016
Nathan Hale is an author and illustrator, who is known for writing "Nathan Hale's Hazardous Tales." He is an award winning, #1 "New York Times" bestselling author. I talked to Nathan Hale to learn about his inspiration, illustrating, and history. Through the interview, I learned about his writing process and vision.
Q: What inspired you to write the Hazardous Tales series?
A: I love history and I love comics, so I decided to mash up two of my favorite things.
Q: Why does history intrigue you?
A: There's a little chill I get when I read about a thing that actually happened. Sure, I like reading fantasy and science fiction—books about made-up worlds and things that never happened. Those are fun. But they don't give me that little thrill that real history does. Nonfiction is the only place I get that.
Q: Are you still figuring out if you're related to the spy Nathan Hale in any way?
A: I'm not related to the spy Nathan Hale. I am related to Thomas Knowlton, the spymaster who hired him.
A: Often, children don't find history exciting or interesting. What are some ways you try to make history "come alive"?
A: I've never been good at remembering important dates or lists of names—I think that's the part of history that a lot of kids (and adults) get bored by. I do like a good story, though. So when a piece of history reads like a novel, with characters and motives, that's when I get excited. Names and dates aren't fun, stories about people doing crazy things are.
Q: What advice do you have for aspiring writers?
A: Write a lot and read a lot. Read outside your favorite genres, try nonfiction, try biographies—the more subjects you read, the better you will be at finding interesting things to write about.
Q: What made you want to be a writer?
A: I wanted to go the island of Where the Wild Things Are. I wanted to explore it, climb around in those trees. Writing and illustrating my own books is as close as I've gotten to going there.
Q: What do you do when you aren't writing?
A: Illustrating! Haha. No, seriously, illustrating. Sleeping, eating, illustrating.
Q: What is it like both illustrating and writing your books?
A: Writing and illustrating my own comics is great fun. First, I write the manuscript and it goes through the editorial process, then I do the illustrations. The cool thing is, I can change things around, add little jokes and new lines to the dialogue as I'm drawing. You can't do that if someone else wrote the manuscript. These last additions are often the best parts of the book.
Q: How long on average does it take you to write and illustrate one of your books?
A: It takes 3–4 months to write a manuscript. Then 4–6 months to draw, letter, and color it all.
Q: How do you design your book covers?
A: I submit a bunch of concept sketches to the art director, then together, we decide what works best. We take the top three and work them tighter, putting the title and logo on it. Then decide which one will work best. Then I take that sketch to final. Sometimes I create the typeface on the cover, sometimes the art director does.
Q: If you could go back in time and meet a famous historical person, who would it be and why?
A: Harriet Tubman. After writing the Underground Abductor, and reading all about her life, I wanted to know more—particularly what she was like in person. I'd like to hear her tell her stories.
Q: How have your readers impacted your work?
A: I get a lot of input on readers about what historical period I should cover next. Those requests are taken into consideration when I pitch more books in the series. Right now the most popular request is for a book about WWII. Guess what I'm doing for Book #7?
Q: What is the hardest part of writing books based on real, historical people?
A: No matter how many great books and biographies you can find about a historical figure, there are always gaps. It's impossible to know everything a person did, or what they were really like. That can be frustrating, especially when you want to make that character come to life in your book.
Q: What kind of research do you do when writing your books?
A: A lot of reading. I travel to historical sites when I can. One huge aspect of doing historical comics is finding visual reference for things. I can't just make up costumes and weapons—they have to be the correct costumes and weapons. So I have to find photos or illustrations of everything when creating a Hazardous Tales story.
Q: What topic of history will your next book cover?
A: I don't want to give too much away, but it involves B-25 bomber planes.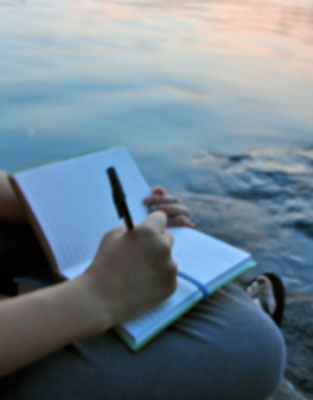 © Grace K., Port Washington, NY