Pro Skateboarder Nyjah Huston
April 8, 2014
Nyjah Imani Huston was born on November 30th, 1994 in Davis, California. Nyjah moved to San Lorenzo, Puerto Rico with his father to be raised as a child. His father was a strict Rastafarian that was often very controlling of Nyjah. His father brought him up as a strict vegan since he was born, and he was not allowed to cut his long dreadlocks. As a child Nyjah's father often abused him and was very hard on him. He was always pushing Nyjah to do the best he could, but often he was pushing him too much and it was hurting him more then it was helping him to do better. When he was competing at a young age he always looked for approval from his father and looked sad all the time. In an interview Huston says, "Me and all my siblings were always so intimidated by my dad because we always wanted to please him. I didn't feel like I could ever be, like, "Dad, I'm going to do my own thing." I couldn't say that to him. I probably felt weird on trips or just being around anything I knew he wouldn't like, like girls or something like that." After Nyjah got signed to Element Skateboards, at a young age, his father's controlling behavior led to estrangement. His father wouldn't let his old sponsorship send out video footage of Nyjah to Element; therefore affect his sponsorship with him. This would not be the first time that Nyjah's father was the reason for him loosing a sponsorship or money he earned from competition.

For his 4th birthday Nyjah received his first skateboard as a gift. Huston first gained attention when he signed a sponsorship deal with Element and joined the skateboard team. During his debut era with the company, Huston appeared in many Element video productions, such as Elementality series. He also competed in large contests, such as the Dew tour and the Vans Downtown Showdown. However, Huston eventually started his own skateboard deck company "I&I" in 2009 after he left Element in 2008. Nyjah was an amateur skateboarder at the time of his departure and always skated with Arif Shafiq. I&I Skateboards only lasted for approximately two years with a team that consisted of Huston, Richard Jefferson, and Anthony Williams. During the company's existence, a lot of magazine advertisements were published and an online promotional video that featured the three team members was released. The primary influence of the brand was Rastafarianism and the I&I logo incorporated the African colors of red, yellow, and green. Following the shut down of I&I, Nyjah returned to Element and released a solo video titled Rise and Shine in 2011. The video was available for purchase on iTunes and later received the "Best Video Part" award from the Transworld Skateboarding magazine. During this part of Huston's career, he also joined the DC Shoes company as a team rider. Nyjah went a significant period of time without a shoe sponsor, which is unusual for a professional skateboarder with the fame that Huston had. After signing with DC shoes Nyjah said, "I think it was all a build up of things over the past year. DC has always been my top choice for a shoe sponsor but I think it took this past year for them to see what I've accomplished and how I did in the contests and my video part and all that for it to finally come through."

After riding through all the hard times and good Nyjah has made it on top of the street skateboarding world. After Huston's gold medal victory at the 2013 X Games Street League contest in Barcelona, Spain, Transworld Skateboarding magazine announced that no other skateboarder has won a larger amount of prize money then Nyjah. On May 31st, 2013 the DC Shoes Company held a launch event for the first signature model skate shoe of Huston's career at the Roosevelt Hotel in Los Angeles, California. The model is named the "Nyjah Huston Signature Shoe" and the promotional advertisement features Huston doing a trick over a set of stairs at Hollywood High School in Los Angeles. As one of the most decorated professional skateboarders, Nyjah Huston continues to improve and win more competitions each year. Nyjah is only 19 years old and has won more money then any other skateboarder in the world. He has overcome his poverty with his amazing skateboarding talents, and has inspired me and many others along the way.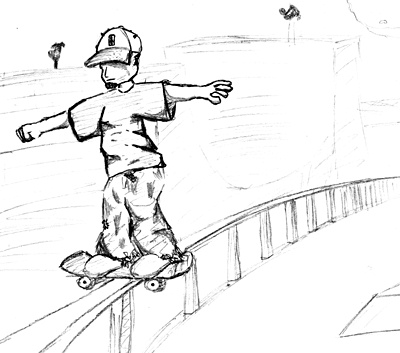 © Paul H., Phoenix, AZ