Author Sarah Arthur
August 16, 2012
Sarah Arthur is the writer of many popular books, such as Walking with Frodo, Walking with Bilbo and Walking Through the Wardrobe. I was given the opportunity to speak with Ms. Arthur about her writing and two of my favorite subjects: Lord of the Rings and Narnia.

Rachel - Tell us about yourself.

Sarah Arthur - I'm a thirty-something write-at-home mom with a love of great books and how they shape us as people of faith. I also love teenagers, how much energy and enthusiasm you all bring to life, how much you love justice. Believe me when I say that you help grownups to be better people by keeping us honest!

RH - How did you first become interested in writing?

SA - I've been "writing" since before I could write (!). When I was very small, still sitting in a highchair, my parents would give me a lined notepad and pencil while they were cleaning up dinner and I would pretend to write, filling the space between the lines with loopy squiggles that looked like cursive. Then I started drawing pictures, which turned into ongoing stories, and by junior high I was filling notebooks with novels. I excelled at creative writing in high school, studied English as one of my majors in college, and only took a brief break from writing for a few years while I was a church youth director. Then I picked it up again--this time professionally--and haven't stopped since.

RH - How much time do you spend in research when writing a book such as Walking with Frodo?

SA - Researching is the fun part! For Walking with Frodo and Walking with Bilbo I read a lot about J. R. R. Tolkien, author of The Lord of the Rings, and of course read all of the stuff he ever wrote about Middle-earth. I especially loved reading his letters, which are fascinating. I also read a lot about C. S. Lewis, author of The Chronicles of Narnia, who was a good friend of Tolkien's and very influential in encouraging Tolkien to finish LOTR. And I studied the Bible in order to get a good sense of how Tolkien was influenced by biblical images and ideas (he was a Christian). So I'd say, overall, I spend 60 hours of research for every 100 hours of writing--sometimes more. And of course, watching the movies is all part of "research," right?

RH - The latest Narnia film adaptions, Prince Caspian and The Voyage of the Dawn Treader, have been given much criticism for deviating from the books; what is your take on this subject?

SA - I'm a HUGE fan of the books, so I'm bound to be rather critical of the movies. I didn't think Prince Capsian was terrible, even though it deviated from the book quite a lot; but I really didn't like The Voyage of the Dawn Treader. The additions of the weird green evil stuff and the disappearing people and the stowaway named Gale didn't really add anything to the story, merely took the focus off finding the seven missing Narnian lords--which was the original quest. More importantly it took the focus off of Eustace's conversion from a nasty little boy to a good guy. The point Lewis is making with Eustace is that evil is inside of us: we are sinful by nature. All of us, at heart, are dragonish. We can't blame some weird green smoke for the bad things we do. We need to confess and convert, and then we can shed the dragon and become the person God meant us to be.

RH - How long have you been a Narnia and Lord of the Rings fan?

SA - My father first read parts of The Lion, the Witch and the Wardrobe to me and my sister when I was maybe seven years old, and as soon as I could handle chapter books I read the rest on my own. (The only one I didn't read until high school was The Last Battle, which I couldn't bear to finish because I didn't want Narnia to end!) So I've always loved Narnia, and it has played a huge role in the shaping of my imagination. By contrast, I tried reading The Lord of the Rings several times in junior high and high school, but I never could get past Tom Bombadil--something about all those songs and poems seemed to slow the story down for me. Finally in college I had to read the trilogy as well as The Hobbit for a class on modern mythology, and I absolutely fell in love with Middle-Earth. Then when the movies came out I fell in love with it all over again. But Narnia holds a deeper and sweeter place in my heart. Maybe that's why I'm so critical of the movies...



RH - Will you be writing another book soon?

SA - My greatest dream is to publish young adult fiction--fantasy stories in particular--so last year I participated in National Novel Writing Month in November. I was surprised at how many words I managed to crank out in 30 days (especially considering I had a one-year-old who was just starting to walk!), and I continue to be pleased about the story. I've also been working on a fantasy adventure about a group of high school misfits who end up on a journey to the edge of the world, as well as a Halloween story about a teenage girl whose mother is a witch. But right now my focus is on my book "Walking with Bilbo: A Devotional Adventure through The Hobbit," since the first of two Hobbit movies premieres this December. My book is out and available in softcover and e-book formats. Now we're just waiting for the movie!

RH - Please share with us your personal testimony of Salvation.

SA - I was baptized on Christmas Eve about one month after I was born. I believe at that moment God planted his flag in my heart and claimed me as his own forever. My parents raised me to know and love Jesus, and so I grew up not only believing but living the faith. They never gave me any reason to question it or run away from it, for which I'm grateful. At various points in my life I have had to choose Jesus for myself--I think we are choosing him every day, every hour, every minute. And he has already chosen us. No matter what we've done or failed to do, unless we totally push him away, God will never let us go.

RH - What advice do you have for aspiring writers?

SA - I get this question all the time and have spoken about it in schools, so I turned one of my talks into an article that I've posted on my website at http://www.saraharthur.info/?page_id=411. I'd love to hear your comments, questions, and ideas!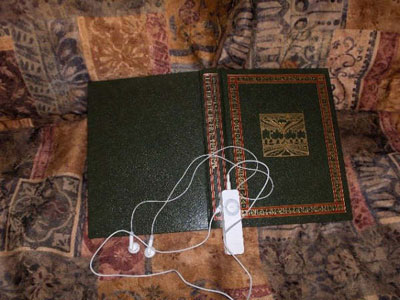 © Sarah I., Surrey, BC, Canada