Should We Believe In Luck?
April 13, 2009
What is the most important piece of advice you have ever received and what role does it play in your life?

Ralph Waldo Emerson, great American essayist and orator once said, "Shallow men believe in luck. Strong men believe in cause and effect." I stumbled along this quote when I was reading "things hoped for" by Andrew Clements when I was in sixth grade.
When I read this quote I thought about it for days; I thought about its meaning, and what Emerson was trying to say. It seemed pretty straightforward but as I thought about it more and more it began to open itself up to me. At first the quote meant what it said. I thought that someone as deep as Emerson would have never said something so literal and simple. I then realized when he said shallow men believe in luck he meant that some people sit and let things happen for them. They are closed and they don't take the initiative to make things happen. They wait for opportunities to come to them and problems to solve themselves. On the contrary the people who believe in cause and effect are always making things happen; they're open to new things and ideas. These people seize and create opportunities everyday both to solve their problems and to pursue their goals or dreams. They are strong.
When I realized what Emerson was saying I looked for a way that I could incorporate it into my life and lifestyle. By incorporating the quote into my life I was going to be the kid who is always working to his potential, making things happen, and being a problem solver. I thought of ways that a sixth grader could incorporate this quote into everyday life. Some things that I came up with were that I was going work as hard as I could every time I play hockey or baseball. Every time I stepped on the ice or set foot on the diamond, practice or game, I was going to be trying 110% and giving it my all. In school I was going to keep working my hardest, never slack off, be responsible, and have good time management.
Ever since sixth grade I've worked a lot harder and have had more success in many fields. My hockey and baseball skills have improved monumentally, and my grades have gotten even better. I figured, after a good year of good hard work, that this was the way I wanted to live my life: hard work with great success. Although the work might be tough and vigorous, it most definitely pays off.
This quote has made a significant change in my work habits and my overall approach to life. Emerson's quote "Shallow men believe in luck. Strong men believe in cause and effect" has brought me a multitude of success and confidence that I will have for the rest of my life.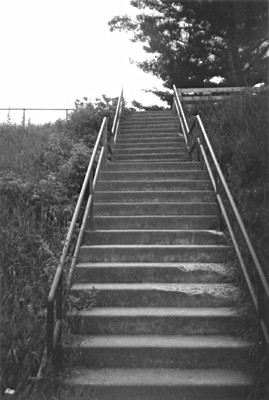 © Eva A., Eagle River, WI