The Story of Elliott Smith
April 13, 2018
Jenn walked into the bathroom to shower, and slammed the door behind her. The doorknob rattled as I heard the door lock. It was an old door. I was 34. I heard Jennifer crying and just the fact that I had caused it hurt me so bad. I couldn't take it anymore. I couldn't handle my life anymore, so I took it. My name was Elliott Smith, this is my story.

I was born as Steven Paul Smith at Clarkson Hospital in Omaha, Nebraska on August 6, 1969. At six months old my parents hated each other, and I went to live with my mother in Duncanville, Texas; away from my father. It's funny because I hated it there, yet I got a tattoo of a map of Texas on my upper arm just for that reason. I said, " I didn't get it because I like Texas, kind of the opposite. But I won't forget about it, although I'm tempted to because I don't like it there". Basically, I was raised there during my mutinous childhood. My step father Charlie and I never really got along. I mean he got along with me greatly, but it was not my choice to bond in that way, if you catch my drift. To be completely candor, this was definitely one of the reasons why I sedated myself with drugs quite often, yet it was only when I was under the influence that I actually recognized what had happened. If you know anything about my music your probably thinking about "Flowers for Charlie" and some of the lyrics in "Some Song" where I write " How they beat you up week after week, and when you grow up you're going to be a freak." and I'm not saying you've cracked the code, but you're not wrong either. When I was probably about
nine I started playing piano, and then at ten my stranger of a father bought me an acoustic guitar, and I started playing that too. I composed a piece on piano then, I think I called it "Fantasy" and I actually won this prize for it at some art festival. I guess you could say that was my first big hit.

I got bored of my life and in Texas, as well as Charlie by the time I was fourteen, and I went to live with my Dad in Portland, Oregon, leaving my mom with Charlie. I finished high school there, finally, that's when I started getting into using drugs and alcohol with friends. At the same time I started recording some stuff here and there. High school was weird, but I did finish it. Believe it or not when I graduated as a national merit scholar. I played clarinet in the school band, but I also played Guitar and piano, and joined a few bands. The first band I ever joined was called Stranger Than Fiction, but then I moved on and started playing with A Murder of Crows. Back then I was just known is Steven Smith, or once in a while "Johnny Panic". After high school I changed my name because Steve sounds too much like a jock, but Steven is extremely bookish. That's why I went to Elliott. My pseudonym while I was with A Murder of Crows was actually "Elliott Stillwater-Rotter". The truth was I didn't want to be confused with the drummer of Journey, Steve Smith, so I took the name from the street that I lived on, Elliott Avenue.

When I graduated from Hampshire I left with a degree in philosophy as well as political science. In candor the only reason why I applied was because my girlfriend wanted me to, and really I didn't want to regret not doing it later on in my life. I went through the four years as fast as I could. Even after all that I ended up working in a bakery back in Portland after my school years were finished. Back there I formed a band called Heatmiser with Neil Gust. Then Tony Lash, and Brandt Peterson joined in and we had ourselves a real band. I think you would have liked these guys. We released a couple albums while we were with Frontier Records, but then we were signed to Virgin records in 1994 after "Mic City Sons" came out. Gus and I took any odd job we could to keep moving, and there were quite a few times when the unemployment line was a temporary residence.
While in Heatmiser I was doing my own thing too, and when I started to get successful there was some tension between the guys and me, and we ended up breaking up even before "Mic City Sons" was released. I was still bound with Virgin Records though. My first album was called Roman Candle, and my girlfriend at the time was the one who really convinced me to give it a shot in the first place. Needless to say it kind of blew up. I told someone once "I thought my head would be chopped off immediately when it came out because at the time it was so opposite to the gru nge thing that was popular". It kind of completely eclipsed all of Heatmiser and its music. It was completely different. I started to embrace it though, even though it was weird for me to be playing shows like Nirvana and Mudhoney. I kept going though, and my second album was called Either/Or, where I actually had some friends featured. Neil Gust came back to play with me on "Single File". A lot of my songs on that album alluded to drugs, but unlike many people think it was really about dependence than drugs themselves. This album is really what gave me that dark and depressive reputation, so the next album I opted for something a little different.

XO and Figure 8 ended up being a different when it came to the mood of the music. They were more upbeat and less somber than my other stuff. This was partially because while writing them I guess you could say I really blew up. I went to The Oscars (which was absolutely surreal) and was on talk shows and all that crap. I told someone once about the Oscars " I wouldn't want to live in that world, but it was fun to walk around on the moon for a day". Because of the success with "Miss Misery" and Either/Or I was signed to DreamWorks Records, but honestly around this time I crashed from my high. I fell into a really bad depression and attempted suicide a few times. Once when I was drunk off my ass I actually ran off a cliff. During this time I released XO with DreamWorks Records, it was pretty baroque pop; different than my other albums. My backing band at the time was Quasi, cause I was in Portland, and "Waltz #2" became huge and I played it on television a lot. Quasi played that one with me a lot.
When I moved from Brooklyn to LA, to make my final album, Figure 8, I started having this paranoia all the time. There was this white van always following me, and DreamWorks was out to get me. I didn't really eat or sleep normally during this time, and I basically relied on ice cream to keep me alive. I even started distancing myself from Margaret Mittleman, my manager since Roman Candle. I ended a lot of friendships over drug and alcohol abuse, and I decided to basically write the album by myself. I messaged DreamWorks saying if they didn't release me from my contract I would release me from this life. Bad joke, sorry. Anyway, they did and I re-recorded the album by myself, usually while high on heroin or crack to be honest. I tried to overdose a couple of times too. I kind just half-assed everything after that. I stopped playing as many concerts and the ones I did do were awful. I really just didn't do them.

I tried rehab a couple times, but the twelve-step programs were loads of bull. I went to a more serious program and actually gave up all the drugs and alcohol on my 34th birthday, as well as the crap that I ate. I was really turning myself around and even got into noise music. I described it once as "kind of more noisy with the pitch all distorted. Some are more acoustic, but there aren't too many like that." Everyone thought I was doing really well. It was a great cover. I played my last concert at Redfest at the University of Utah in Salt Lake City on September 19, 2003.

After my death, I was surprised by how many people cared. I didn't think I was that big of a deal, but people were really upset. It almost made me feel bad. I knew that people who knew me well would know that this was definitely best for me because looking back I was completely unmanageable in society. I was a funny guy, and I had a good life... until it went downhill. You could even say I had used to be the life of the party. Well, yeah, that's my story. My name was Elliot Smith and that's "A Fond Farewell" to you.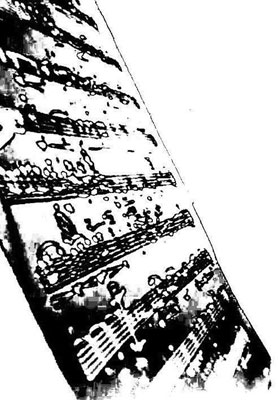 © Allan L., Plano, TX