Memories and Mishaps
April 13, 2018
Every summer my family goes up to our Cabin in Canada for a week to relax. This last summer, that wasn't the story because my brothers and I got to take one friend with us. Since it's our family cabin, my cousins were there and they both got to take a friend to. I took Fletcher and my cousin Jackson, who's the same age as me, took our friend Mac. Our parents don't realize that this relaxing week wouldn't be to relaxing for them.

On a warm Sunday morning, we all piled into our cars to make the trip up north. We barely got out of Amery when my little brother, Simon says, "Uh mom, I gotta go to the bathroom."

"Simon, we just left home."
"Yeah well I didn't have to go then."

So we made our first pit stop at a gas station and Simon headed in to use the bathroom while Fletcher and I went in to look for some road trip snacks. We both ran to the drinks and grabbed 2 red bulls each. We then found our way to the food and I grabbed a huge bag of sour cream and onion chips and Fletcher grabbed a huge bag of sour patch kids. We then made our way out of the car and tried to jump in before my parents could see the 4 red bulls we got. We made in the back seat and cracked two open when Simon yells,

"Mom, they can get a red bull and we can't even get pop? What kind of place is this?"
"Snitch!" Fletcher yells back
I just sat in the back next to Fletcher laughing.
"Well its too late to take them back now, we already opened them." I told my dad.
"Fine, just don't drink all of them right away, and hey, hand me some sour patch kids."

After we all got settled back into the car to make the trip. I ripped open my bag of chips while Fletch ripped open his bag of candy. When we started to get tired, it was Simons idea to play the Alphabet game. That game is where every player starts at A and as you go past cars, signs, and through towns, every letter you see, you say it out loud. The first one to reach Z wins, but you have to go in order of the alphabet. Even though it was his idea, he fell asleep within 40 minutes of playing.

Eight hours later we get to the big wooden cabin. We all piled out of the car, my dad threw out our bags and we all drug them into the cabin and up the stairs. Fletcher, Jackson, Mac and I all go upstairs to the bunk beds. The only thing anyone wanted to do was sleep, so once everyone got settled in, we all crawled into bed to get a deserved night's sleep.

The next morning we woke up one by one and all made our way down to the kitchen to try to find breakfast. I was the last one awake and I stumbled down the stairs to the kitchen. When I got to the kitchen everyone was finishing their scrambled eggs and Bacon that my dad made. I grabbed my plate and some orange juice and started to eat.

"What's the plan for today?" Mac asked
"Ah, I was going to go check the boat to see if it was ready, if it is, we can go on the boat for the day and you guys can fish. I can get the tube and the water skis out too if you want." Jacksons dad replied.
"Bauer hurry up, I wanna go fishing." Jackson yelled from upstairs
"Chill, I'm eating as fast as I can."

I finished my food and ran upstairs to get changed. I grabbed my pole and met the rest of the guys down at the dock.
"Wait, Bauer bring the sunscreen! You might get burnt!"

I ran back up the hill to grab the sunscreen. When I got back down to the boat they were already leaving so I jumped off the dock just in time. We got out of the bay to the open water. My dad threw in the tube and told us to get on. Fletcher, Jackson, Mac and I all piled on the two person tube. My dad was driving and he was going so fast and taking really sharp turns, trying to make us fall off. It worked, we went around one turn and hit a massive wave and SPLASH! All for us landed in the water laughing. They came back around on the boat to pick us up and we all got back on the boat laughing. Fletcher was sitting there holding his mouth with blood dripping from his mouth.

"Fletch, what happened?" Jacksons dad asked
"When we fell off, I hit my face on the tube and I bit through my lip, is it bad?"

His mouth was filling with blood and we just laughed. My dad gave him some water and ice to put in his mouth to stop the bleeding. Once it had stopped we decided it was time to go fishing.

We grabbed out poles and put bait on them, now moving to "the best" spot to fish. Once we got there, we all casted out poles into the water hoping to get a bite. That didn't happen though, we kept casting and casting, but nothing.

We took a break to eat our lunch. Mine and Jacksons mom packed us a lot of food and we ate it right away. Once we finished eating it was time to get back fishing. Mac wanted to go to a new spot where theres always huge fish.
We got to the new spot and casted our poles again waiting and waiting. I was getting really impatient and was about to take my pole out of the water, I felt a tug and looked down. My line was going everywhere and I was pulling my pole. I was reeling my line in but I thought I just got weeds, until I got it out of the water and onto the boat. I got it off the line and held it up, it had scars all over its body. We had to measure it to see if it was big enough to keep, 45 inches 25 pounds, so we put it in the live well. We caught more fish throughout the day but that one was the biggest, and it was mine.

We got back to the cabin and we told the moms and the other boys about the day. The only thing they were concerned about was Fletcher's lip. They kept asking if it hurt, they didn't even care about my fish. Once they were done talking about his lip, they started on the food.

Over the next few days we had so many fun times, Fletcher bit his lip and it started bleeding again. Mac fell off the bunk beds one night and hit his head on the floor, instead of getting back up onto the bed, he took my blanket and Jacksons Pillow and slept on the floor.

The next morning it was time to head back home, we all piled into the cars again and made the journey home. We made sure Simon went to the bathroom before we left so we didn't have to stop right away.

At my cabin we always have the best time, but this year, it was the best time we've had there and it we made the most memories there this last year. We get to go back this summer and bring the same people, hopefully nobody gets hurt again this year, but we know that's not going to happen.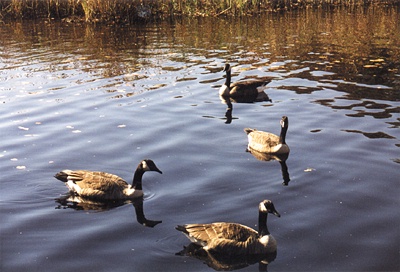 © Lindsey S., Marblehead, MA