The New Trend Tearing Through Society
April 9, 2018
Walking down the hallway of an average high school, I caught a glimpse of the totally torn mom jeans; light-washed, barely scratched, high-waisted boyfriend jeans; and dark-washed, more-rips-than-fabric skinny jeans. These are just a few examples of the newest craze: ripped jeans.
The trend first appeared in the late 80's as a sign of rebellion—teens shredded their clothes as a way to express their hatred towards society. Back then, this process had to be done by hand, but in today's stores jeans can be found flying off the racks pre-ripped. Making their return in 2010, these jeans have found their way back to the teenage wardrobe in a somewhat different fashion. Today's teens are tearing their clothes, not as a sign of rebellion, but for different reasons altogether.
To find out more on why this trend strutted back to popularity, I headed to the professionals: teens. In one survey conducted, nearly 94% of teens agreed on wearing ripped jeans regularly; however, they disagreed on why that is. "I wear ripped jeans because sometimes you need some diversity," Steven C states. "People just like to change things up because normal jeans can get boring sometimes." While some teens, like Steven, believe the trend is due to the urge to express themselves, others, like Amanda K, a shopper in American Eagle, think deeper motives are involved. Amanda argues that "famous people wear them on social media and the rips look good on them, so it urges other people to wear them too," implicating the rapid spread of ideas, impressionable teen mind, and inspiring success of people like Kim K and Kylie Jenner play a key role in this trendy comeback. Either way, there's no denying the popularity of this craze.
Selecting the perfect pair of ripped jeans is a more difficult process than I expected. Finding the correct size only scratches the surface of this monstrous task. Indecisive teens, with wallets in hand, across from mountains of jeans, must inspect the many options strewn before them. The jeans, their fabric shredded, sit piled high in every store. With each pair more uniquely torn than the last, the options are endless. What style looks the best? What color goes better with other clothes? How many rips are too many? These are just the things to consider when purchasing a pair.
The multitude of available styles range from mom to boyfriend jeans, high-rise to low-rise jeans, and skinny jeans to jeggings (a mix of jeans and leggings; a more comfortable alternative to normal skinny jeans). In one survey I conducted, a whopping 60% of teens said they preferred skinny jeans while a mere 10% thought mom jeans were more their style. Next, there's the choice of color. Today's teens are not quite satisfied with "just any old blue jean;" they now have the choice of colors such as light-washed or dark-washed—the latter winning the popularity vote by just 28 to 20 when compared to the former. But I'm a-frayed the fun doesn't end there. Finally, there's the impossible choice of how many rips should be in that pair of pants. When given the choice of light, moderate, or heavy, most teens (68%) agreed that a moderate amount of rips was the way to go.
But fashion-sense isn't the only factor that controls whether teens decide to don no rips or "more than there are jeans" rips. Although they disagreed on the means, most teens agreed that there are times when ripped jeans are just not an option. Some, however, argued that there's never a bad place to rock some rips (Moms probably don't feel the same!). Family events, work, and formal settings are strictly off limits according to the majority of teens surveyed (what could be worse than the sarcastic remark from an elderly relative commenting on the "awful fall" you must have endured on your way over?). Holy events like Sunday masses are also a universal rip-free zone.
Besides locations, weather also plays a crucial role in the detrimental decision of how many rips are appropriate to wear. Of the teens surveyed, 52% established the weather does in fact affect this decision, but the other 48% claimed that neither hurricane nor heat wave can deter them from showing some skin. Madison L, a fifteen year old shopper in Pacsun, says the weather is a big part of this verdict. She only wears them "twice a week in the winter because it's so cold, but nearly every day in the summer."
It seems as though hopping on this band wagon requires more effort than meets the eye.
Knowing what type of ripped jeans to buy is only half the battle—the other half is knowing where to get them. If one wants to get the hottest styles with the coolest tears, the place to be is American Eagle. Madison also stated that she prefers "American Eagle's jeans because they have the cutest styles and the most variety." In fact, 43 out of 63 teens agreed with her that the most fashionable pairs come from American Eagle with Pacsun and Hollister tied for second.
These fashion statements, however, come at a price. In this case, the price is just that— the price of the jeans. Just over 52% of those surveyed admitted to spending anywhere from $30-$50 on a single pair and 25% said they spend $50 or more. Luckily, those who favor American Eagle's selection may just have the upper hand in the world of ripped jeans. Sales Associate Grace V explained, "People usually go for our 'Buy One Get One 50% off' sale, so most people spend anywhere from $65-$85 when buying jeans here." This reduced price may not seem like a steal, but without this sale one could be spending over $75 and beyond for just one pair. That's one way to raise some distressed feelings. Teens may be losing a few bucks, but never an opportunity to grab the next hottest style.
So who's actually buying all of these ripped jeans? Of the 63 teens surveyed, a striking 59 wear ripped jeans. Sydney C, one of the four teens who do not to wear ripped jeans, said ripped jeans are just not the right fit for her because "they are too uncomfortable," which is unlike most teens who gave an estimate of the percentage of their total jeans that have some degree of gashes as anywhere from 75%-90%. This isn't just including girls, the trend extends to guys as well. While stores may not sell quite as many pairs to guys as they do girls, this doesn't stop them from rocking the trend as well. Of the 7 guys I interviewed, 4 of them liked their jeans slightly torn. In fact, almost every teen interviewed agreed that the rips have no gender; agreed that guys can pull them off just as well as girls; agreed that all teens can choose to adorn with as many or as few rips desired.
"Bundle up!" a mom calls to her teenage child, rushing out the door to the bus stop. The frigid temperatures and prevailing winds pierce the skin as the teen impatiently awaits the arrival of a warm, toasty bus. What's causing this teen and thousands of others to freeze at the bus stop each morning? Have they forgotten jackets or hats or mittens? The answer is no; these chills are due to the intentional holes in their jeans. This freezing is just the reality of the new trend tearing through society.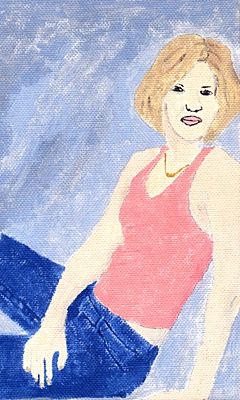 © Damon L., Purdin, MO