Our New Year's
MAG
March 28, 2009
As I sit on these cement steps with fallen leaves surrounding me, I can't help but think of you; fall was our favorite time of year. Do you remember those days we spent sitting outside for hours in the crisp air with the wind blowing my hair into your face, just taking in the grandeur of the yellows, oranges, and reds?

You always said fall was your New Year's. As the leaves turned from green to orange, faded to crimson, and danced to the ground, you were making your resolutions. "It's the time for change," you always said.

So we sat on the cold steps of the abandoned house that was the exact middle of our houses – four from me and four from you – making our New Year's resolutions months in advance, trying to change as best as two naive kids could. I felt so close to you on those steps.

Sometime between fall and summer of eighth grade, everything changed. You changed. I could see it in your empty eyes, hear it in your delicate voice. Talking about the afterlife became important to you. You wanted to believe in God, in heaven, hope and redemption. My immature, 13-year-old mind couldn't fathom what you could possibly need redemption from.

Eventually, you didn't want to hang out with our friends anymore. They asked me about you, though, asked how you were doing. I never knew what to answer. We hung out in your room more, lying on your bed, sometimes talking but mostly silent. Every time I came over, your mom would guide me into the kitchen so she could pour all of her worries into my polite ear. "He really needs you, Nikki." I grew to hate her.

No matter how much I was supposedly helping you, things were getting worse. You were taken to doctors and put on medications with names I couldn't pronounce. Your parents tried other doctors and alternative treatments, but you didn't improve for long. It didn't matter what they did, or what I was supposed to be doing, you weren't meant to stay.

The next year passed without mention of the cement steps. We watched the leaves turn and fall from your bedroom window. There was no wind. There was no crisp air. There were no resolutions.

I wanted to help you. I wanted to be your cure, the one who made everything better. I wanted to fix you like Chris Martin sings about. I tried so hard, but I couldn't. You needed more than me.

You left me in February. When your father's normally steady, comforting voice called that night, my emotional foundation caved in. I realized I would never see you smile again. I was mad at you for leaving me. I felt guilty for not trying harder, but glad you weren't suffering anymore.

The tears didn't come right away. I guess it needed to sink in. Then everything seemed pointless. I didn't think I could survive without you, my confidante, my best friend.

Your funeral was a big blur of tears, flowers, and your casket. Those moments when I was standing next to you were the most surreal of my life. You weren't mine anymore; you were just a shell of what used to be. You were orange, for Christ's sake.

Afterward, I stood in your room wondering if your parents would turn it into a home gym or something. I grabbed your journal and a sweatshirt that smelled like you. My mom washed the sweatshirt while I was at school one day and I cried for hours.

For weeks, months, I couldn't go near your house or our steps without tearing up. Sometimes it seemed like my world collapsed the day you left. People faded into the background. School took a backseat. I often retreated to my room. I would read your journal over and over, my heart breaking with every word written in your strangely slanted print. I guess I should apologize for invading your privacy.

Time passed so slowly. Spring crept into summer, summer faded into fall. It got easier, but that first orange leaf was almost unbearable. Everywhere I looked, there you were, laughing with the golden leaves, blowing my hair with the cool breeze.

I finally faced those steps. I sat for hours staring at the familiar landscape and letting the wind whip my hair about. I let it rush over me again. I ­remembered your smile and the way your green eyes would light up. I remembered your voice and the melodic way it could lift my mood or put me to sleep. I basked in your memory.

Years have passed. I guess I've grown and changed the way people do – I even made it to college! However, a few things haven't changed. I still make my resolutions as the red leaves dance around me. Those cement steps still make me feel close to you. And fall still is, and always will be, our time.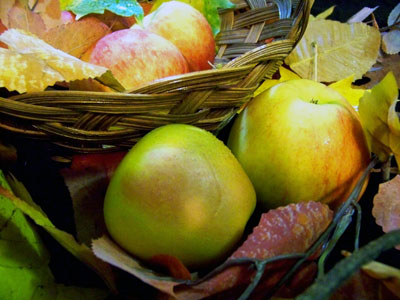 © Kseniya O., Flushing, NY