I Am a Puppy
January 18, 2018
The puppy solemnly stands at the door, waiting for her owner to return. As she waited, a strange dog appeared at the window randomly barking. She smiles at the dog, hoping to make a new friend. The dog growls at her and sprints away. "Why don't they like me like me?." She wonders. She's just a dog looking for a new companion to play with. The boredom sinks into her like quicksand. Suddenly, The door starts to creek. Then, she looks up to see her owner greeting her with a long petting session. You don't know how long I've been waiting for you! She thought. Many hours had passed by since her owner had returned.

She rolls around on the floor making weird noises. "You silly girl!" The owner laughs. She then goes on a speed chase around the house. She runs into a roll of toilet paper. She finds the right moment to roll around for the last time. The toilet paper felt warm on her soft fur, wrapping her up like a blanket. After a while, The toilet paper wrapped around her whole body. She creatively figures out away to escape the toilet paper blanket. She was like Houdini trying to get out of there.

It was ten o'clock at night and the owner was getting ready for bed. Suddenly, her dog appears in the bedroom whining and complaining. "I'll be with you in the morning." Her owner reassures. She slowly goes into her cage and starts to prance around in circles. She then wonders when her owner will play with her again. Dreams start to play in her head consisting of happy days. In those dreams. The owner is playing with her in the grass, laughing and running around. A smile begins to appear on her adorable face. She is now peaceful and free until the sun rises.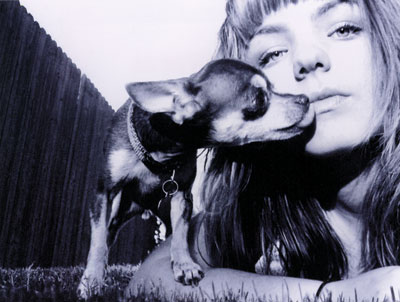 © Samantha S., Flower Mound, TX