Following the Proper Path
October 26, 2017
At the age of five, I started taking Martial Arts for exercise and to learn discipline that I could carry into daily life. One of the parts of martial arts that is overlooked is the leadership aspect, so they tried to talk to us about leadership in a class setting. At this class we learned how to be a good leader. The instructor said that he was shocked to hear that many of his teenage leaders are not being the best examples for the younger students outside of the dojo, and he wanted us to be better than that when and if we joined his leadership team. So, he had a conversation every leadership seminar about making good choices, because your actions speak louder than your words. A maxim of a former instructor of mine is an overused cliche, "You've got to 'walk the walk and talk the talk'". This conversation and concept have been a part of my growing up, so I have gotten into this maxim and made it more specific to my own life.

Not only is this a true statement to help me with my leadership skills, but it is also a general precept that can be applied to life, to some extent. No one is perfect, especially me, however I find myself falling for the human condition of pride. Sometimes, I do not want to admit that I am still figuring things out about myself and how to live, and I am striving to never claim to be a life role model or a "life coach". I must get real with myself and admit that I need to preach less and act more.

In these leadership lectures, he also talked about being a leader outside the dojo. He taught, it does not help to preach, instead be a role model by treating others kindly and taking initiative to control your life in a positive way and "ice out" negative energy. But this also means not being the negativity in another's life. This has helped shape the person I am today and help me remember how to succeed as a member of society.

Sometimes I get prideful temptations to believe that I have gotten my life together, but in reality, I need to straighten out certain aspects in my life. Before I act like I have my life together, I must truly know what I am doing, and do some serious soul searching about who I am and what is important in life. Everyone has this tendency, but I am the only person I can control. I can preach that I have it all together, but I strive to be honest with myself. Most importantly, I try to improve myself a little at a time. This is a strong belief of mine that I can take from age 14 to 114.

This means to me that I should "walk the walk and talk the talk" every day of my life, this is a first, basic step that I can apply. This is a sure way I can improve myself. Like all humans, I am fallible, I need to act properly and show people what I believe in from the good deeds I do daily. Only when I can do this, should I believe that I have my life together. Many positive influences in my life have lead me to believe in my maxim and to really live it to the best of my ability. Most of my positive influences have mentioned this idea to me in their own way, that's why I have phrased it my own way and truly believe in the power of my actions.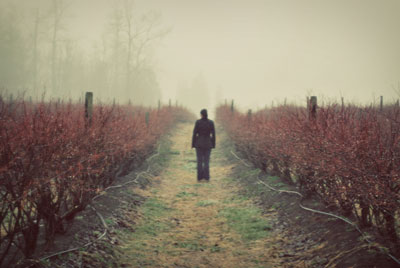 © Molly H., Lynden, WA