Global Warming
October 17, 2017
Global warming is referred to a "Runway Climate Change" , or in other words; "Catastrophic Temperature/Climate issues". Global Warming is also an heat increase in the earths atmosphere and oceans by temperature due to the greenhouse effect that causes air pollution. Global Warming should be labeled as man-made causes because of the pollution that happens through the year's Americans cause because of the in-efficient ways we use things.
The greenhouse effect is one of the main causes of global warming. Greenhouse gases are collected in the atmosphere with CO2 (carbon dioxide) that animals produce and air pollution. Then, it absorbs sunlight and solar radiation and traps the heat and air pollutants which, usually escapes out to space, and this causes the planet to get hotter. We can prevent this from happening if we limit and/or manage energy sources , burn less harmful chemicals in factories. According to Amanda McMillian , "The U.S actually decreased CO2 emissions from 2005 to 2014, thanks impart to new energy-efficient technology ", Amanda responds. The U.S.A's second to largest carbon pollution transportation sector is fossil fuels , but farmers give animals various antibiotics to make their businesses last long, so when the animals produce gas ,it mixes with greenhouse gases ,which is more harmful than other gases.

Those cause's from global warming can lead up to very dangerous climate changes. Curbing climate changes is also dangerous which is why we need new efficient ways for our technology , and energy uses. According to some scientist, climate change cause a "pause" or a "slowdown" in earth's global temperature, but this has not yet been proven, but there's a possibility. Positively, we can prevent it but, Over the past 50 years Amanda observes , "the average global temperature has increased at the fastest rate in recorded history," Amanda implies. Most importantly, experts say see this trend accelerating ,unfortunately the habits are affecting human quality.

U.S climate, and temperature issues are growing, so many things are causing disruption in the global temperature, such as; burning fossil fuels, energy efficient technology by maybe cutting most energy and replacing with something non-harmful to the environment, generate cleaner electricity, and also reduce heat trapping pollution which basically refers to dropping us CO2 emissions. Many factories use fossil fuels and coal, According to Amanda," coal-burning power plants are by far the biggest polluters," she exclaims. This is a simple definition of global , because theirs more polluters the effect, worldwide.

In conclusion, it is a fact that the U.S. carbon emissions can increase within the next few years if we don't change how we use things, certainly by reducing energy uses. In my opinion, global warming is more of a man-made cause and less of an environmental cause because of the pollution Americans cause to the environment, surely there is new and efficient ways to use electricity without the outcome being pollution.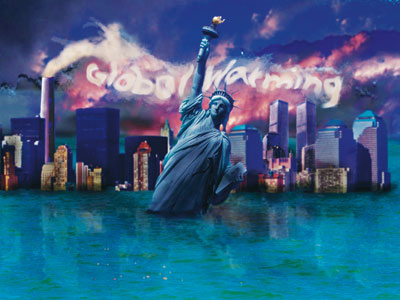 © Caleb W., Newton, MA