The Cotton Museum
September 26, 2017
The picture so graphic. The slave master is the devil takes their souls away, their strong, strong souls. Taking beatings and whippings like dogs working from sunset to sunrise. Skin throbbing from the brown worn out whips. Oh the pain, the crying, the suffering, the falling. People watching their property and thriving off their laboring. Hands of sandpaper fighting the cotton. Light beaming down turning their brown beautiful skin into dark coal. Heat waves burning the skin darkening the scars. Too hot to stand but having to get keep going. The smell of hard working slaves taking over the nose.

The night is the savior but to some it's when evil comes. Some girls too pretty to be left alone. Me, my hands tremble, my hands tremble. A gloss covers my eyes before a heavy river flows.

A record messed up in my head repeating, some girls too pretty to be left alone, too pretty to be left alone. A darkness take over my heart, angry at the past.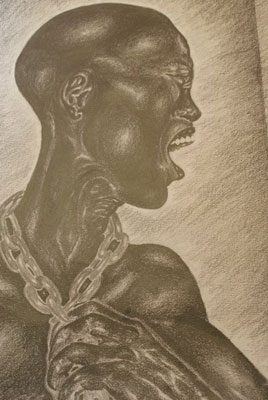 © Catherine M., Bronx, NY