Guavas
MAG
March 26, 2009
My aunt is here. She is two hundred or three hundred or four. I'll never ask so I'll never know, but she is older than my dad, and my dad is as old as the house, and the house is edging on ancient.

She is wearing a loud yellow skirt, bright like the day and the sun and the stars that are so light they are washed away by the sky. I think she is smiling, but my hair is in my eyes so I can't see clearly. She tells me I should cut it, but her own cascades down her back in long orange ringlets.

She's an oxymoron, my aunt. She is as old as the hills, and probably as wise, yet whimsical like a child. She always does exactly what she wants, explores and reaches and teaches.

The day is golden, and it's glittering off everything: our hair, the leaves, the clouds. My aunt leads me through the brambly passage to the side garden, a secret garden hidden if you've lost the child's knack for finding lost wonders, like that red sock that never made it out of last week's laundry but somehow flew under your brother's bed. Dried pomegranates lie on the ground, round and wrinkly. Past the olive tree – an epiphyllum with magenta flowers stapled into the fork – is a wall of silvery leaves with silvery fruits like frozen raindrops.

We pluck bunches of guavas and eat them, feeling the cold happiness smearing on our cheeks, as sticky and sweet as the sunshine. Flecks of pink juice sprinkle my shirt. My aunt tells me the flowers are edible too. I don't believe her until she places one in my mouth. It's smooth and perfumy, but it doesn't want to go down my throat, so I spit it on the ground.

Down the gravel path lined with yellow bamboo we arrive at the cactus garden, a circle of centennials melting in a Dalí-like world where time drips in the heat. The white labels at the foot of each giant are curled and blurred, their names long lost though their bodies still cast shadows on the dirt.

The soft rush of speeding cars weaves around a row of bending eucalyptus trees, tall trunks reaching up and up. Strings of strong-smelling leaves dangle down to the earth like taffy being pulled in two directions at once. I wonder, if we stopped pulling at the skies, would they let go and fly away? I stretch up, but it's far out of reach. My aunt reaches up and plucks a pink flower from the tree, like a star from the sky, and places it in my hair. It's not going anywhere for now.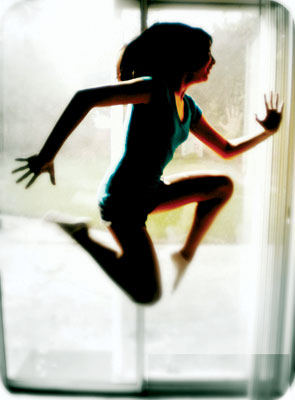 © Michelle L., Syosset, NY