IN MEMORY OF...
November 7, 2008
In the summer of 2008 I had a great trip to Minnesota for the most part; there was one bad thing that had happened. June, 7 my family and I left to go to Minnesota for a long drive. We drove the first day for about nine hours and then stayed at my cousin's house. I had hung out with my cousins playing at the park, fishing, and playing video games that night. At 6:00 a.m. the next morning we had then left again for another long drive to my grandparents.



When arriving at my grandparents I was so tired; yet so excited. I hurled my bag out of the Denali and raced inside. Once inside I gave my grandparents hugs and visited for awhile, then passed out. When I had waked up at around 1:00 p.m. the next day, I went outside to explore the small town once again. My grandfather had asked me if I wanted to take the four-wheeler for a spin; I had replied "thanks grandpa" and went exploring. I went to the iron ore dumps and trails which had a beautiful scenic view.





It was now Tuesday morning and this was the day I went to hang out with my family and friends for the next couple of days. "Knock, Knock" I pounded on my cousin's door. "Come in" my aunt Velma exclaimed. I went inside and right away my cousins dog Roxy had started biting my feet and shoes. My cousin Shelby kicked Roxy away and gave me a hug. Shelby is a year older than me and is one of my favorite cousins; next to my cousin Tawny who is my age who was also their visiting. I was so excited.



After visiting for a few hours and watching TV I asked them if they wanted to go trail riding on four wheelers. They had agreed but said we had to invite their friends, Molly, Hailey, and Mattie. We had three four wheelers so we all had to double up, Shelby with Tawny, Hailey with Mattie, And Molly with me. We rode around Taconite looking for and trail to take, we found one that none of us had ever been on so we went on it. We drove the four wheelers for around two hours and then stopped to find a creek and a lake. We were pretty sure we had discovered this lake because we went off trail in the woods away and found it. It was amazingly cool, it was in the middle of iron ore dumps and there was nothing around it. We tried to climb down the 150 foot tall dumps but it became too difficult and climbed back up the red soil that stained our shoes.



When we got back to the four wheelers it was starting to get late and we had to get back. We had realized we were close to a different town which was Grand Rapids. This town was thirty miles away from taconite so we were worried. We started heading back but we couldn't remember which way to go because there were too many turn offs. We took our best guesses and got even more lost. We had finally come to "The Pit" which was an old iron ore dump that filled with water. These pits are 300 feet deep of water and are amazingly big. We knew which way taconite was for "The Pit" and we were on the complete other side. After another two hours of riding back with one hour in the dark we had finally made it. Our parents were worried sick because we couldn't get a hold of them because we had no cell service.



Around three to four days later I had went and visited my uncle and godfather Rob who was not doing so well because his girlfriend was messing with his brain. Usually he talks a lot and this visit was much different. As soon as I had got there my uncle had not said one word to me other than hi after I had said it to him first. The rest of the time I was there he didn't say anything; he just sat there, watched the Twins game, and spit his chew into a bottle. When I had left I said bye to him and he said bye back. I was really worried when I had left and was hoping nothing would go wrong.



All that had changed the next day when I had gone fishing with my Uncle Doug the next morning. We were out on the lake for about twenty minutes when my uncle got a call from my aunt Trina saying something had happened to my uncle Rob. We hurried in to the landing and loaded the boat on to the trailer. My uncle was driving really fast because he was not sure what had happened to his brother. About two minutes driving he got a call from my aunt Kelly and hung up the phone and threw it. He was crying really bad so right then I knew something bad had happened. We got into Marble (where my uncle lives) and he dropped me off and headed to Taconite. When I went into the house my Trina had told me my uncle Rob had shot himself. I then started crying and waited for my mom to come and get me.



When my mother had come and picked me up we headed back to Taconite and went to my uncle's house where all of my family and my uncles friends were at. I couldn't go over there because everyone was being all emotional and stuff so I decided to just go to the park with all of my cousins. I sat at the park thinking why would my uncle do this he was always so happy and cared about everyone. When he was in high school he was really good at baseball and they made it to the championships in Boston. At the game it was tied up at the bottom of the ninth and two outs, my uncle was up to bat. Just so he wouldn't lose the game for the team he had stepped into the ball and took the base just so he wouldn't risk losing the game.



The funeral was three days later and I was still so sad. When I got to the funeral I went up to my uncle's casket and saw him. I started to cry and gave him a prayer goodbye. The funeral lasted about two hours then was the burial. At the burial we played music and Father said prayers to everyone then put my uncle into the ground. Everyone put a rose into the hole and gave their vows. By this time I was crying the worse out of all this. We all left and went to eat lunch at the church back in Taconite. I ate a lot because I was so hungry and not really paying attention. Later on I just went back to the house and watched TV trying not to think about my uncle.



Two days later the whole family had to go to Rob's house and write thank you cards to everyone who helped out, brought supplies to the house, and gave my grandparents money. While we were over there we had also went around the house cleaning everything up. My grandpa gave me all my uncles old baseball cards because I was Robs godchild and Rob promised me I could have them when he passed away which I was not expecting o be this soon.



The whole way back to Peetz, Colorado felt like a much longer ride because all I could think about was my uncle. To cheer myself up I just thought about the good times I had with my family and friends. Bye uncle Rob.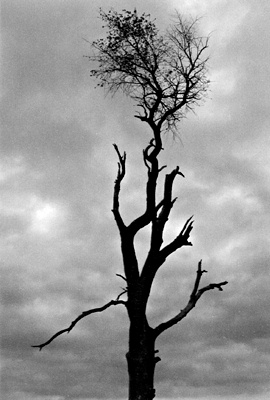 © Cassie H., Carmi, IL