Failure to stop at the red light
March 19, 2009
I took the paper from her, face frozen. Her voice intoned, droning over my thoughts how I hadn't stopped correctly, how I didn't do this and this.
But I wasn't listening. My eyes moved barely enough just to see her pen slash angrily through the UNSATISFACTORY box. They saw her kill my dreams.
Is there a word for the killing of dreams? Dreamocide? If there was one, then this would be the place for it. She flipped the page, noticed I took the test before. 'Oh, and what happened here?' She asked, voice a fragment softer.
My mouth answered for me. 'I went over the curb. In the first minute of my test.' My mouth twisted itself into a sarcastic smile.
I'm not crying yet, I realized. Have I just become immune to failure?
I drove home, my father talking about how I shouldn't worry, I'll get it next time. All I could think was, that's what you said last time. Tears trickled down my impassive face. All my anguish was inside.
Not a day goes by where I don't get an insult. Failure, fatso, jerk. I get called things for standing up for myself, for not letting people walk all over me. I get called things for being me.
I took an IQ test once, at the same time as a friend. It was an online test: 30 questions, 15 minutes. I hate timed tests but by the time I realized it was timed, my time was already running out. So I took it to the best of my ability. I looked at my score, hoping for the best. Ninety-nine it read. You're below average.
Sometimes all these things catch up with me, and I drop my tough exterior. I think, What if I am below average, too stupid, too slow. Am I destined to fail all my life?
My sixth grade teacher left halfway through the year. On his last day, the whole class gathered around him and begged for him to tell us what he really thought of us. He went around the classroom, playfully, picking on certain people, telling us what he thought. I watched as my classmates perked up, blooming like flowers to his praise. I couldn't wait! And then his finger landed on me.
'Hmm,' he said smiling, a little crease between his brows, measuring me up before beginning. 'In the months I've known you, I've realized something about you. When you talk, it takes a while for the words to come out, for you to say what you mean. You speak slowly.' My heart crashed, and I almost missed the next words that passed through his mouth. 'But when it does come out, even if it does take a while, it's worth it, because you've actually got something good to say.' He smiled, confident he worded his student evaluation correctly. The class nodded in agreement, smiling at each other as if to say, He's totally right! Even though it happened years ago, I can still feel my face shut down. Too slow runs through my brain. Too lazy, too behind, too short. I can kind of feel an inner spirit jump up in my defense, saying defensively, 'So what? They're all characteristics that make her different, that make her cool, that make her HER.' But it's a little voice, and the others crowd it out. I can hear it before it leaves, yelling 'Don't forget you are fantastic don't let anyone tell you otherwise!' But then it vanishes and tears flood my eyes. I say silently to the little voice, but what if everyone tells me otherwise? Why should I believe myself if everyone else thinks that way?
I look up at the mirror in disgust. Red eyes, watery cheeks. What happened to me? I give myself a little shake and laugh at my ridiculousness. I can't believe this whole reflection is because I failed my behind-the-wheel driving test for the second time. My smile gone, I imagine a huge red stamp labeled FAILURE pushed into my forehead. Then I blink and realize it's all my imagination.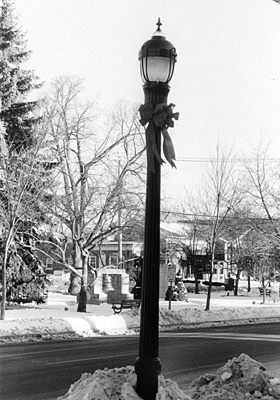 © Geoffrey D., Milford, CT