Road Killed by a Big Rig
November 18, 2016
Many residents have complained about the traffic on McClellan road on work days. Why is McClellan such a busy road? Nothing much, it's just a road that just happens to be a way for parents to drop off their children to school, but the problem is that McClellan connects to three schools: Monta Vista High School, John F. Kennedy Middle School, and Lincoln Elementary School. Traffic on McClellan is usually normal from 7:00 to 9:00, but when traffic gets out of hands, it could get messy.

15-year-old Monta Vista sophomore, Ethan Justin, was biking to school on Monday, October 17, 2014, when a big rig rammed into him, which caused him to die. "The driver of the truck continued on, not knowing he had struck the teenage boy. Witnesses were able to successfully flag him down and notify him he'd been involved in an accident." (Stenderup,2014). Officials had reported that Ethan was wearing a backpack and a helmet when the accident happened. Emergency help declared that Ethan died on the scene and was left helpless. "You don't understand how dangerous cars are and the power that they have and how vulnerable you are as a cyclist. So the kids under 16, I don't think really get it." (Koniniec, 2014).

Traffic on McClellan is also caused by the intersection of McClellan road and September drive. The intersection September on McClellan is three way, and it doesn't have a stop sign. There is a "Keep Clear" sign on the intersection, but it doesn't work until the traffic is bumper to bumper.This leaves the drivers on September drive helpless until there is a tiny gap. According to this reporter, when there is a tiny gap, the driver has a margin of about three seconds to think if he/she can go or not. If not, then the driver would have to wait three more minutes until another gap shows up. The car barely makes it through the tiny gap. Once the driver is on McClellan, the driver sees a middle lane which is completely empty. Driver decides to go in the middle lane, and most of the time, a police officer is waiting at the end of the lane, waiting for you to get a ticket because that lane is only for people who are pulling in the apartment complex, not for turning right onto Bubb.

At this point it depends if the driver is going right, left , or straight. If the driver needs to go the left, he/she has to go until the railroad track until the solid line is broken, so they could turn left on Bubb. If the driver decides to go to the right, he/she will have to go to the end of the intersection between Bubb and McClellan and turn right. The bike lane is to the drivers right which means the driver will have to look for bikers. This was the same scenario of the big rig crashing into Ethan. The big rig was turning right onto Bubb, the driver was not paying attention for nearby bikers and pummeled Ethan without even noticing. Drivers who want to go straight have to look for bikers wanting to go to the left, because the bike lane is on your right and they want to go to the left.

Many challenges overcome the residents of Cupertino as they drop their children off to school and also pick them up from school. Student bikers should also be aware of what is going around them, such as, other cars zooming past by, or looking for cars when turning onto McClellan or Bubb. Bikers should also be fully protected with helmets, and if a skateboarder, kneepads. Trucks should not be allowed at all during the dropping off/picking up of students from the schools. It has been reported in just the Bay Area alone there has been 467 accidents from 2004 to 2016. Will you be safe today?

Works Cited:

Poyzner, Mikhail. "World Top Stories Timeline, 21st Century." World Top Stories Timeline, 21st Century. N.p., n.d. Web. 9 Nov. 2016.

Gomez, Mark. "Cupertino: Truck That Killed Monta Vista High Student Was Making a Delivery." The Mercury News. The Mercury News, 06 Nov. 2014. Web. 9 Nov. 2016.

Louie, David. "Teen Riding Bike Fatally Struck by Big-rig in Cupertino." ABC7 San Francisco. ABC7 San Francisco, 27 Oct. 2014. Web. 10 Nov. 2016.

Mondon, Karl. Employee Looking at Makeshift Memorial. 28 Oct. 2014. The Mercury News, Cupertino

Wilson, Mark, and Matt Wilson. "Cupertino Still Looking for Answers after Fatal Traffic Collision." The Mercury News. The Mercury News, 29 Oct. 2014. Web. 10 Nov. 2016.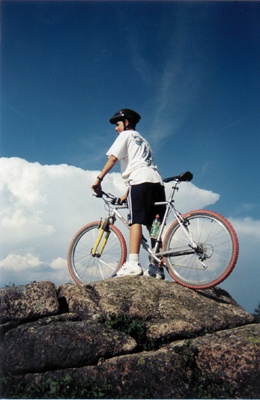 © Jeremy S., New City, NY