New Beginnings
March 12, 2009
With graduation no more than a month away, I found myself emotionless about the situation in its entirety. Sometimes I felt as if I was strange because, unlike others, I was not the least bit excited, scared, or apprehensive about what lies ahead. I had no real reason for feeling so apathetic about graduation, only that I did not feel that there was anything worth being emotional about. Graduation is one of those things that sneaks up on you. One day it was just a thought in the back of my mind and the next it was on my doorstep ringing the obnoxiously loud doorbell. When it came, it hit me harder than any train could have. Graduation and the following months really opened my eyes to what was after high school. It showed me that the train to 'life' had arrived and it was waiting for me to cash in my ticket and hop on. It was time to grow up and face the world.

Directly after graduation, I realized that my entire family was counting on me to do well in school and succeed in life. Both of my parents are pharmacists that graduated from UGA with 4.0 grade point averages. My brother, who is now a sophomore at GSU also has a 4.0 after his first two semesters. After I had received my diploma and threw my cap on that muggy, memorable night, I met up with my family. The first thing I noticed was of course all of my aunts and uncles that I seldom see due to the fact that they live in Mitchell County, down near Valdosta. The second thing I noticed through all of the excitement was something I thought I would never see. My dad was actually crying. This is a man that in my 18 years of life has not cried one time in my presence. The stadium lighting provided a brighter-than-bright glare hovering above the whole situation that made it somewhat surreal. It was truly a sight to see. He pulled me over to the side and told me how proud he was that I had my life on the right track after a few slip-ups. He made sure that I knew the reason he was crying was that he would finally have the house to himself, which I laughed at. I wanted more than anything to make him proud by succeeding in life by any means. There is no possible way I could avoid feeling an unbearable amount of pressure to live up to the expectations set in front of me. I've always had to live up to my brother's academic successes, and by now I had even started to set unrealistic standards for myself that I felt obligated to achieve.
Coming into college, I didn't have the HOPE scholarship. I was appalled when I found, out because I was eligible for receiving it. My brother and I visited the financial aid office located less than 100 feet from my dorm. We walked inside the old building and found the inside to be much more visually pleasing than the outside. The old brick on the outside gave the whole building a vintage feel. We were directed to the financial aid advisor. The advisor was an older woman of maybe 60 years. She seemed as if she knew what she was doing, as her office was clean and everything possible was organized. I was told that I was supposed to have filled out a form online months before. I was responsible for taking care of this application, and I dropped the ball. This is when I realized that I was truly on my own, and I was about to begin a brand new life filled with new responsibilities and experiences. No one was there to hold my hand and walk me through the things they did before. I had certain responsibilities that I couldn't have dreamed of having while still in high school. My father would always tell me when to go to sleep, when to study, and when to eat. It was bizarre to wake up one day in a dorm room and suddenly have no structure to my life at all. It was up to me to balance my time, money, and recreation.
The most significant of the changes I've encountered since graduating is by far losing many of the friendships that I worked so hard to make in high school. Halfway through my first semester, I realized that I would probably never see 90% of my friends from high school again. Facebook helps, but it doesn't keep friends close like seeing them every day does. A true friend is someone who you enjoy spending time with unconditionally. It is someone that you love hanging out with no matter what situation you are in. It is extremely difficult to create these types of friendships as they require much time to develop. It's not all about losing friends though. Many new friendships are waiting to be made. Life after high school and college, specifically, present an abundance of opportunities to get to know new, exciting people. During the first few months friends are usually made because of living arrangements or shared classes. After these initial months, it is clearer who your true friends are, the ones that will be around through the good and bad. These friends are the ones that I spend every free minute with. Between classes we grab a bite to eat, and on the weekends we party until we realize its Monday morning and we've already missed our first class of the day. These new friends are ones that I will remember forever.

Graduation made me realize what the world really had to offer. It was an eye opener when I realized I was on my own, but it's a learning experience that will help me grow as a person. Losing friends and making new ones is something that happens. People go their own directions in life and sometimes it takes them in the opposite direction as their friends. This, along with pressure stemming from high expectations, is part of life. High school was a place to grow and develop into the person I will be for the rest of my life. Graduation was just a small step in a long process of preparing myself for what lies ahead. College is where I realized I'm prepared to take on the world.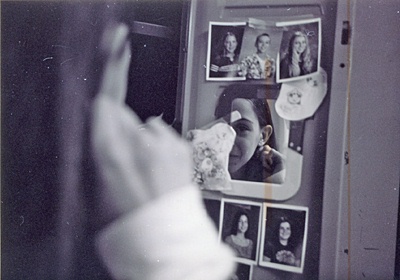 © Kaleigh W., Pompton Plains, NJ