Are friendships eternal?
March 7, 2009
Friends, all of us have them.
They are the people who we consider family though we don't have the same blood. The people we turn to when life seems to be at its worst. The people who we care about and love for reasons that we ourselves can't even explain.
In a way, our friends become a permanent piece of us. The question is, what happens when that piece dies? What do you do when the permanently together becomes the permanently separated? Are friendships eternal?
These are questions I started to ask myself not to long ago when I lost one of my more beloved friends. We were only friends for a year but we had grown almost inseparable during that short time; like any other pair of good friends, we had our own set of inside jokes, secret handshakes, common interests, and other little 'traditions' that we would everyday.
Eventually, we became very close and like any other girl, I started to imagine us staying close throughout the remainder of high school and being friends forever but, one day reality tried to show me that some things are not meant for 'forever'.
On October 15th, 2008, my beloved friend was hit by a car and died.
I was devastated to say the least. It was unbelievable, the person who I had just left school with and hugged goodbye was dead. Overwhelmed by depression, I tried to deny it for as long as I could, 'it's all a nightmare' I told myself over and over, 'I'm going to wake up soon and see him at school. None of this is real, I'm going to wake up soon,' but, I never woke up and neither did my friend.
During his funeral, I stood in front of his coffin, reached for his hand, and told him for the last time, ' you're my best friend, I love you so much.' I went home that day thinking that reality had won and proved to me in the harshest way possible that friendships, no matter how strong, could never be permanent; and for a while I believed this. Then one day a classmate who also knew my friend told me he had a dream that our friend was an angel, smiling more than ever, and said that he was in Heaven and still loved all of us. That's when I realized reality had proven nothing about true friendships.
Since then, I continue to do all of our little 'traditions', say our inside jokes, and stand at the street corner where we hugged each other goodbye for the last time and say a silent prayer for him everyday. It still hurts going to school and not seeing him around but, I take comfort knowing we are still friends even though were aren't together anymore and that my beloved friend is in a better place.
Everything that begins, must end; everyone knows that but, there are some things that truly are permanent. Like the permanence of love, compassion, and care. Life may not be eternal but, friendship always is.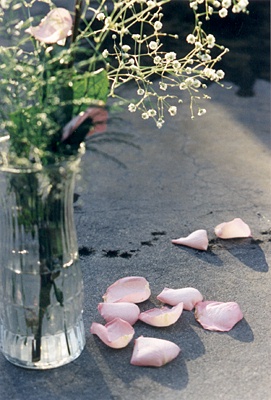 © Mary A., Fullerton, CA