La, La, Lousy!
March 4, 2009
I did hear the words describing me as I raced through the halls singing at the top of my lungs. 'Off-key', they said; 'tone-deaf' and 'can't sing to save her life' were also bandied about. Being three, I assumed the phrases were remarks on just how beautiful and precious my voice was, so I only grinned and curtsied deeper. Because my family clapped and proclaimed how darling I was, my ego was fed at a young age; I truthfully believed I was possibly the best singer in the entire world. I lived my early years trying to make it to the big time- I often choreographed dances and wrote songs to perform for my family. I can remember walking outside or through my house improvising something, anything, to sing. When I got my first CD player, I thought about how someday other kids would be listening to my CDs and singing to my songs.
It wasn't until I was about seven that the dire truth came crashing down on me in the form of a shocking conversation with my cousin. We were lounging about in her room when I remarked on how I had a much better voice than the person singing on the radio. Because my cousin is the same age as me, it didn't occur to her that I truly believed that or that it would hurt my feelings if she told me otherwise. 'Good one, Jody,' she said, laughing. I crinkled my face and asked what was so funny: I didn't understand. When she explained that she and my entire family were actually quite horrible singers, it still didn't occur to me that 'the family' included me. I politely exclaimed how tragic that was and assured her that I would certainly remember her when I became famous. She stopped laughing and examined my face; when she realized I was not joking, she tried to set things straight once more. 'Jody,' she began, 'no-one in our family can sing including you.' It was as gentle as a seven year old could be, but it was still too incredibly harsh for my sheltered ears. I protested and even sang a few (improvised) bars to prove to her just how fabulous I was. As I finished singing my heart out, her only reaction was to cringe and ask what song that was. By this time, I was furious and grasped onto the only explanation I could think of- she was jealous. Sharing my revelation with her, she turned an unnatural shade of purple and demanded that I get out of her room and that she was not jealous but only felt sorry for me. Being only seven, I fought back the only way I knew how: with fists and legs. I pounced on her, shrieking at her to take it back. When she refused to, I only pulled her hair more enthusiastically and insisted she take it back louder. Unfortunately, my cries escalating in volume also brought down upon us a wrath of parents; in a whirl of hands, shouts and confusion, we were pulled off each other. My cousin vowed to never, ever talk to me again, and I was completely fine with that arrangement. As soon as we were separated, we were asked why we were fighting. I told the adults it was because she was lying; she maintained it was because I was a 'stubborn brat'. They poked and prodded until we finally told them the cause of our wrangle, which made them laugh in the end. Ferociously, I demanded to know what was so funny and why they were laughing; they only replied with 'honey, it's really hard to make it in the music business, so maybe you should think of something else to be when you're older'. Even then, I understood that was my parents way of telling me that I wasn't all that great at singing; I stopped bragging about my skills that moment, crushed that my dreams would never become true. I instead turned my career aspirations to being a veterinarian, following my mom's footsteps. My cousin and I avoided each other the rest of our visit, and I clamped my mouth shut for a couple of years.
I opened my apparent 'tone-deaf' mouth one other time after that, in fourth grade for the annual fourth-grade play. I had managed to slide by the numerous concerts and recitals our school performed twice a year by singing very softly, my voice nestled inside the cushion of thirty other voices singing the same song. The fourth grade play involved me singing a solo, as all fourth graders were required to have one, and I took the chance to see if my parents were really right about me; I had never truly given up on my dream. But even at rehearsal, I could tell my voice just wasn't as stellar as the other kid's voices, the ones that didn't sing in a completely different pitch or crack halfway through the line. The fourth-grade play really brought an end to my singing dreams, and I began to dread opening night. My parents told me just to get up there and sing as loud as I could. When my solo time to get on came, I closed my eyes and opened my mouth; the voice that came out was just as bad as it had previously been, but I heard the applause as I finished, applause louder than everyone else's. That was the moment I understood the fact that it wasn't how well you sang, but how loud you could belt it out.
Today I know that the only reason I was cheered the loudest for was because I had the most people there watching me, and that the quality of a voice really does matter to make it big time; my cousin and I are also talking again and I have survived two more plays. But I also know that if you do something with all your heart and just put your all into it, it really does pay off. So, yeah, maybe I couldn't sing to save my life, but at least I'd go down trying.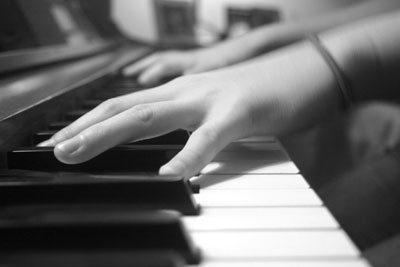 © Elizabeth S., Newton, MA