The Patrolman
March 4, 2009
There wasn't much to say when the news came because we all knew it was going to happen soon. The head of my little sister hung over in the grief of losing the animal that we for so long loved entirely. As she stood in the middle of my bedroom she spoke the words that have just now sunk in: "Kitty's dead."

I stared at her for a while, pretending like she was joking - trying to block out the reality of what had just happened. For a moment, I thought about a few things. I thought mostly about how just the day before, my brother and I were throwing him on my bed. He would come up to us and meow, begging for more.

Your probably reading this story thinking: It's just a stupid cat.
But you don't understand. We didn't buy this cat; we found him. He was covered with lice, ticks, and tons of other unmentionables. He was crying in a bush outside my old home. We decided we would keep him, even though my father was highly against the idea of bringing a stray animal into our home. However, we begged until he cracked, unhappy.

We moved a bunch of times. When we found a steady home, we made Whiskers an outside cat. Never once did he roam away. He stayed within close boundaries, but everytime he came back he had some nice battle wounds from getting in fights with foxes, groundhogs or anything else that stood in his way of trying to protect the neighborhood. He used to be nice to everyone - except for me. I would walk through the hallways, minding my own business, and he would pounce from out of nowhere and grab my leg with his claws. I got a few scratches, but nothing that a band-aid and neosporin couldn't fix.

He had some form of animal acne, so in the wintertime he developed disgusting scabs all over his face. My friends (and even my family sometimes) refused to touch him in fear of accidentally hitting one of his scabs. Over the years, they got worse. This past year, he turned ten years old. This was the worst year of all.

We discovered a huge bump on the side of his face, and figured it was just another scab. Just incase, we brought him to the vet. The vet said he had bone cancer, but for now, it was nothing to be overly concerned about. We didn't worry, and we went on with our lives like everything was absolutely normal.

The next week, he was worse. He wouldn't hardly move, which was unlike him to a high extent. The fact that his bump wasn't going away either, concerned my mother. One night after school, I noticed the neither my dad or the cat were around. I figured my dad was working late, and that the cat was just patrolling the neighborhood - as usual. Instead, they were at the vet. He was put to sleep.

After staring at my sister for some time, I finally spoke. "I don't believe you!" I said a little forcefully. I ran down the stairs to my parents, tears welling up in the corners of my eyes. They both nodded, knowing exactly what I was about to ask. I told them quickly that I had homework, but when I went upstairs, tears were blocking my eyesight. I suddenly felt stupid for crying over a cat.

My dad came up later, and I was still balling my eyes out. I tried to wipe them away, but they kept coming. I'm not much of a crier, and I don't like people to see me upset. At that moment, though, I didn't care.
"It was his time, Taylor. We made the right decision." My dad said, leaning down by the chair I was curled up in.
"It's not fair!" I said, "I didn't even get to see him today."
My dad smiled, just a little, mostly a smile of sympathy. He rubbed my arm and tried to make me feel better, but I was still crying. I couldn't stop. That doesn't happen to me very much.
I looked up at my dad. "I hated that cat, too."
He sighed and looked down at my floor. Suddenly, he stood up, not saying a word. He began walking out of my room. When he reached the door, he stopped and turned around to look at me.
"You know what, Taylor? You say you hate that cat, but when I see you sitting here crying like you are it lets me know that you didn't hate that cat at all."
With that, he left my room.
I cried even more. Probably because I knew he was right.

It's been about three months since this happened, and I know now that Whiskers is in a way better place now. It still hurts - but I know what I speak is true. Two nights ago, I was sitting on my bed, laughing with my friends. My friend Morgan gasped out of nowhere.
"What?!" I said, reaching towards her, scared.
She put a hand to her chest. "I could have sworn I just saw your cat run across the floor over there!"
I leaned back against my wall. Tears developed in the corners of my eyes, but I blinked them away. I honestly hadn't thought about the cat at all. Then, I smiled.
"Morgan, you probably did see him. He's still here. He always will be."
She laughed. "You just can't get rid of that crazy thing, can you?"
Of course, my friends and I giggled at her comment. We went on talking, but in my head I had inspiration. I knew exactly what I was going to write about, how I was going to write it, and what I was going to say. In my heart, Whiskers is still there. He knows I love him, he knows I care.

He's never going to leave me.
And that's probably the greatest gift of all.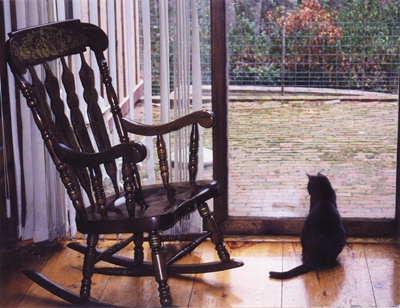 © Elizabeth S., Manomet, MA