Kat
December 16, 2008
We met in the second grade. I was drawn to Emily and Kathryn, attracted by their happiness and the way they accepted me. Soon, our knot of friendship was tied as tight as an impossibly tangled necklace. We all came up with nicknames with each other, mine being Liberd, which was later shortened to Berd, Kathryn's being Kat, and Emily's being Emelephant. But, in the seventh grade, Emily fell away. Her knot loosened. She became friend with the tallest seventh graders in our school and officially called themselves the "Tally's." Kathryn and I were left out on a limb.

Kat and I shared almost the same birthday. Hers was on the 21st of June, while mine was on the 22nd. We were summer girls, girls who lived for the sunshine. Unfortunately, we had to bear with heavy snow and cold weather for the greater part of the year, even though Utah is considered a desert climate. Kat and I learned to survive on notes. We lived, and still live, by the quote "If they give you ruled paper, write the other way," said by Juan Ramon Jimenez. Our notes were written just so. We drew intricate pictures on them, wrote "sidewards" and bore our soul; it was almost like we were writing poetry in every note. Kat and I were never embarrassed of each other. We never thought the other was weird. No matter how simple the line in the note, we understood the meaning and origin behind it. We shared the same interests, the same zest for life. Without Kat, I would have been a dreary person. She was my best, finest friend. Kathryn Gessel and I were inseparable for the moment we met.

We had this strange thing for Aquamarine, the movie. As a matter of fact, we liked anything that had to do with mermaids. One summer, for our birthday, we went with all of our friends to a hair salon to get aqua streaks in our hair. They washed out by fall, but I still think that those summer months were some of the greatest. Kat and I also loved the play, Aida. When we saw it together, we both cried. We were so perfectly blissful just the way we were. Our friendship was authentic, the kind of thing that never dies. Words can't express the kind of closeness that we had. Separately, we were just Kathryn and Libby. But, together we were Kat and Berd, the most invincible and strongest companionship out there. We could tell each other everything. That sounds so cliché, but it's the truth. Kathryn's family put her in therapy and on crazy medicine, and I was always on the brink of the same thing. She was never open about her problems with anyone else but me. I told her ridiculous things that I was upset about and she empathized. Most people didn't even know that we were going through tough family struggles because we were so happy together. Kat would be still smiling over my inspiring note that day, while I would still be beaming from her good advice. We had better things to worry about than boys, even though we still couldn't help our affections. They crept up on us so unexpectedly, and each boy put holes in our hearts. Kathryn's heart shone golden out of the broken seams. Her skin glowed. She was such a beautiful girl.

Kat had gone to the doctors one day. I was not worried. She had warned me in an earlier note that she was going in for a check-up. The next morning, as six o'clock sharp, she called me. I hurried to answer the phone in anticipation, only to be disappointed. "Berd," her soft voice whispered over the receiver. "Berd, the doctor found a tumor. We spent too much time in the sun this summer. I…" She cut off. I was afraid. Tears were streaming out my eyes. This was news neither of us were expecting. "I was diagnosed with skin cancer," she finished. By then, I couldn't control my tears. There were drops of sadness, drops of pain, drops of fury, drops driving me insane. I hung up the phone without saying goodbye. I ran out into the freezing cold snow, barefoot and in my pajamas. I ran faster than I had in any track meet I had ever participated in, and soon enough I was pounding on the Gessel's door. Kat answered, looking more haggard and upset than I had ever seen her. We missed school that day and just hung out. Kat told me when she was starting chemo. She told me about her melanoma. We watched Aquamarine over and over again about three times over and cried when the three best friends separated. Secretly, we both feared the day when we would have to part.
I began to pray for her nightly. She just kept getting sicker and sicker. Her malignancy kept growing larger and the cancer kept feasting on her skin. I began attending therapy sessions and doctors appointment with her, trying to support her in every way that I possibly could. She lost her hair, so I cut mine short and gave it to a wig maker. Ten inches of my hair was specially made into a wig for Kathryn. By then, Kat and I were practically sisters. Though we were going through a tragedy, we were becoming even closer. At first I didn't think that was possible, but I learned that hardships bring people together.
Then, in a doctor's appointment on June 18th, 2008, three days before her birthday, Kat's doctor informed up that her life was being cut short to two months. The year we turned fourteen was one of the saddest ever. Emily started to hang around us again. Life seemed like it was ending, and my tear ducts seemed as if they would run out any day. I couldn't believe that Kat, my best friend ever, was going to die.
Kathryn told her cheer coach that she couldn't be on the cheer team anymore. The physical exercise was too hard on her besieged body. She had worked all summer to perfect her cheerleading, and now she was giving up that dream. Surprisingly, Kat held on for longer than two months. During the third, I knew she was about ready to give up any day. Hospitalized and on serious chemo, she was still happy. Her golden heart still shone like a million stars. Kathryn is my idol. My hero, forever always existing in my heart kept positive even when the going got catastrophic.

By September, Kathryn was fading. Her spirit still was the light of my life, and she still wrote me notes every day. Our correspondence didn't change. We didn't even talk about her cancer. We only talked about the things that really mattered, like singing in the shower or waving at children on school buses. I have every single one of her notes saved in four mason jars. The last one, the one she wrote on her dying day, is the one I read and treasure the most.

Her casket was purple, our favorite color. All the cheerleaders that knew her came to her funeral in their cheer uniforms. Kat's hangs in my closet, greeting me every morning with the school colors, which were purple and yellow. School colored daisies lined the outside of her grave, a token of each fellow student's love and admiration for her. I visit her grave as often as I can. I still want to write her notes when I get bored, but then I remember. I see sunshine whenever I think of her. Kat, my love, my friend, was my sunshine. I miss her terribly. How could the moon exist without the stars? The sun without a blue sky? Somehow, I am doing it. Emily and I are strong friends once more. I have befriended the "Tally's," even though I'm just a little shorter than their requirements. It seems like Kat is watching over me every second of every day, giving me the strength to find new friends. Kat and Berd, forever to the end. I will never forget. How could I?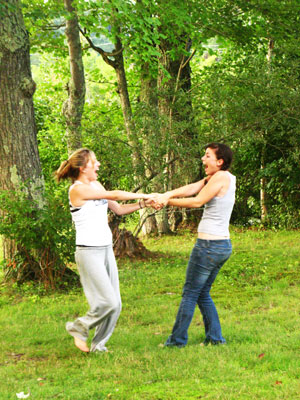 © Chantal C., Falls Church, VA