A rainbow on 9/11
February 18, 2009
It was surprisingly calm for after a Florida thunderstorm. The soil had just settled onto the earth again after being brought up from the ground by fat rain drops. The trees were still wet, along with every other thing in sight. The morning was quiet as usual, just like any other day. We left the house in my mom?s gold Honda, and we drove to school. The ride was boring, as usual; I looked out at the window and observed everything. I looked at the Matthews Bridge, when Claudia my sister ruined the silence.

?Look outside! Look Mommy a RAINBOW!? She screeched peering out the window. Whoop-dee-doo a rainbow I though, even though I was still curious to see it too.
?Wow Claudia, this is your first rainbow!? My mother encouragingly said.
I too saw the rainbow, it was big and I could follow it from bottom to end. I was happy that I started my day out seeing that, because it was probably the only thing that made me smile all day. It started around 9:40 when a few of my kindergarten classmates, including me got called down to the office. We all walked to the office and there were a lot of people in the office.

They were all crying, and demanding there kids. The office was packed and people kept coming in. I was wondering what was going on, and I couldn?t even find my mommy. All the kids stood in the doorway, as if they were on display. Everyone looked at us, and when they didn?t see they were there kids, they turned back and resumed arguing. I looked at every one talking loud over the TV that was in the corner of the room. On the TV they kept showing a plane, over and over. I was focusing on that when my mother came up behind me and grabbed me. I flipped out and almost started crying (which really wouldn?t have made a difference because practically everyone was crying anyways.) My mommy was well composed. She wasn?t crying, just happy to see me. She hugged me, and Claudia grabbed onto her too. We walked out to the car, and then I popped the big question; what was going on? She told me ?some people crashed a plane into the Twin Towers and the Pentagon.? I thought to myself it wasn?t that big of a deal it was only two towers and a shape. But really it wasn?t.

My mom took me and Claudia to her work where we stayed until she we went home. My Aunt Mebane came over and so did a lot of my relatives and they talked about ?Big people stuff? so I didn?t but in. I saw the people on the TV over and over, just like on the TV in the main office.

When I went to bed that night I though about all that happened. Everything changed because there was no more towers to go look at when I went to New Jersey, and a lot of people died. I was filled with the thoughts of the people that I saw in the office. There was this lady who was screaming wanting her kid so much it scared me more. Everything was different my mom told me, and she told me that I would remember everything about this day, one day, and she was right.

?It was just two tower, and a shape!? I think of that line a lot now, because it was so much more than that. It was 2,998 lives that were lost for no reason. It affected so many people, and so many people?s lives. Its scary thinking back that someone did all this. It has engraved a memory in my life, that I will always remember. It is a memorable moment because when I write this, I appreciate life a whole lot more. Any innocent person could die in this event, and I wasn?t one of them and that is something to be so grateful for. And just to think there was a rainbow that day.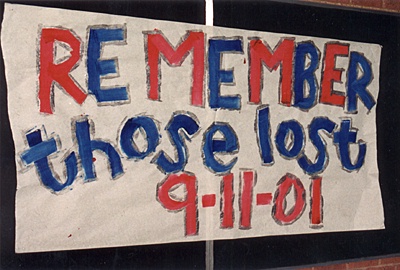 © Christopher A., Phoenix, AZ