My Pool
February 27, 2009
Upon our arrival at the high school state swimming championships, I could barely contain my excitement. The pool was overflowing with swimmers and coaches and officials continuously herded back photographers while attempting to keep some kind of order on deck. The adrenaline was pumping through my shaking arms and throughout my warm-up I felt like I could fly. Honestly, at that point I could have been feeling horrible and not have noticed a thing. My enthusiasm kept building and building without any tangible limit. Even standing out in the cold while dripping wet waiting to practice dive starts, the last segment of our warm-ups, couldn't swing my mood and then before I knew it I my turn arrived. "Take your mark, GO!" yelled a coach and off I pushed from the starting block as hard as I could. For a moment I soared through the air, but I knew the instant I hit the clear blue water that something had gone terribly wrong. I dove crooked and my perfectly streamlined position fell to pieces when the weight of the water forced my left arm to push downwards. I plummeted straight towards the bottom of the 4 foot deep pool. I felt my head scrape the rough bottom and then a second of blackness.
In shock, I swam the length of the pool and clumsily clambered out of the water. Still dumbfounded, I tried to explain to my best friend what had happened. Turning around, she took one look at my head and immediately grabbed my hand and led me to our coaches. Convinced that I was bleeding I tried to tell the coaches how I had done this, but they did not believe I was all that bad, just scared. At first, they had me take of my once silver, now a rusted brown, swim cap releasing the only pressure on my forehead. Instantly blood started flowing and Canace, our assistant coach, took me and sat me down with some paper towels. Leaving me with a teammate, she rushed to seek out our other assistant coach Mark who worked as a part-time EMT in his spare time. He hurried over as soon as the news of what had happened spread and then started talking to me slowly while attempting to see if I had acquired any serious head injury without scaring me even more. At this point I had nearly broken into hysterics, not because my head hurt, I knew how to deal with pain, but because I was petrified of what would happen with the rest of the meet. What if I have a concussion? Will I need to go to the hospital? All the while, the other coaches and the rest of the team tried their best to keep both me and Mr. Griffin calm, but I barely noticed any of them. I still couldn't seem to get a handle on what had just happened.
Once Mark convinced himself that I wouldn't fall over, he guided me over towards the meet trainer to see if there was in fact anything seriously wrong. The trainer cleaned off my messy forehead and put a special bandage on the cut. That was good news at least, that means I would not need stitches. Next he looked in my eyes for signs of any brain injury or concussion. Once he finished, I sat and glanced at Mark, who then asked the dreaded question we both knew had been running through my mind this entire time, Would I be able to swim? The trainer looked at us and chuckled a little, then told us that besides the golf ball-sized lump on my head and the nice scar that would surely form, I would be fine and ready to swim if I felt up to it, though he warned I may have a bit of a headache for a while.
Now for my biggest challenge yet- to conquer my fear of diving off into the shallow, seemingly murky water. Nervously, I got up and dove conservatively at first, but then with a little more momentum as time went on. Soon though, the official's voice rang through the loudspeaker informing swimmers to clear the pool. This would have to be enough practice. My event was coming up second and I was ready to race, but definitely not in the same state of mind that I had set myself in before the little mishap. I worried constantly, the same thoughts over and over again, up until the very moment of my race. Atop the starting block, I trembled and cautiously looked over at my coaches. Then the gun went off, and in I dove... no collision! But throughout the race new fears found their way into my mind and the whole time the negative and fearful What if I black out? What if I don't make it? thoughts flashed through my head. Because I let these constant worries penetrate my state of mind, I was too scared and preoccupied to race as fast as I know I was capable of. I missed the time I wanted by 1.3 seconds, but earned myself a place in the finals session the next day so I would get another chance.
At finals, though I placed seventh, I did not swim the time I needed to qualify for sectionals, my biggest goal for the whole season. I was 0.9 seconds too slow and completely crushed. I felt empty, like I had failed, and again, all the what ifs ran through my mind repeatedly like a broken record.
I was devastated, but have come to realize that I did accomplish one of my goals that day. I proved to my peers, and more importantly, to myself, that I am strong and that I am capable of more than I realize. if I hadn't slipped in warm-up I may have achieved something greater in the eyes of the swimming community, like a sectional time, but in my mind I accomplished something much more important than a time on the clock.
I will never regret doing that dive in warm-up. I leaped with all my heart, and even though I fell, I took a chance and for a split second in the air I felt as though I could do anything. However, I will always regret that first 200 freestyle in prelims. I was too scared to realize what I could achieve and it cost me the accomplishment of my dream at that meet. Now I have realized that diving in headfirst and whole-heartedly can be a huge risk, and even though sometimes it may hurt, my heart will always take me further than being too scared to give it my best shot. Now I try to dive into whatever pool I come to, no matter what it may be, and give my best shot, knowing in the end it will pay off in one way or another.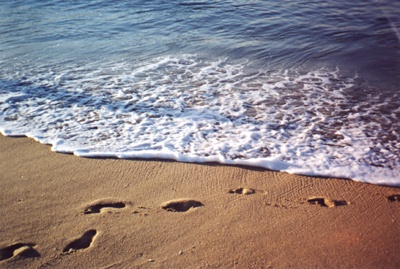 © Daniel M., Phoenix, AZ