Mother.
January 26, 2009
Clunk went the car door as I stepped down to reach the cold pavement of the parking lot. It was dark and very dry out with that crisp night air filling the sky. I can't even begin to explain just how it feels to know when someone is about to die. You get that shiver down your spine as if you're watching the devil grin. As if you know something bad will happen after you pull the lever but you still do simply because of curiosity. I walked into the entryway of the nursing home. The stench of old cafeteria food instantly filled the air. The hallways were empty. Not a soul to be found. It looked like a one floored hotel. Nurse's carts in the hallways, "Do Not Disturb" tags hanging on the outside of doors, The long puke-purple carpeted hallways. Yep, I'm definitely at the right place.


After walking what seemed to be a mile down the hallways of nothing but door after door, I reached my Mom's room. It was about 11 o'clock at night. I just came back from a local restaurant down the street. My Mom was laying in her small hospital bed with balloons to the left of her and a huge pitcher of water to her right. She was fast asleep. The TV was turned down low with a slight buzzing sound coming from it. I walked towards the half cracked open windows and shut them. Soon after my sister had followed me in and turned on the bathroom light. I noticed my Mom had some old Mother's day cards on the table that I still hadn't posted up even though she begged me a numerous amount of times to tack them up. After sitting at my mothers bed side for about an hour listening to a buzzing TV, I decided to tack those cards on her wall one by one until they were all neatly hanging side by side.


It wasn't like this four weeks earlier. Four weeks earlier she was talkative and active. Four weeks earlier she was ordering a #2 with curly fries from Dairy Queen. Four weeks earlier she was still my Mother. She used to be full of joy. She use to have this charisma where she could walk into a room and instantly lighten up the place. We used to go out and do things all the time. We had this terrible vacation once, those vacations where the kids moan and groan and the parents wish their kids wouldn't moan about everything so much. Singing in the car? Yeah. Playing stupid games like car bingo and magnetic chess? Yup. But things weren't like that any more. Now my Mom seems to do the moaning and groaning, and I would do anything to make it stop. That night I had prayed to God telling him that the time has come and I'm ready for him to take her away from her suffering. The TV turned itself off and awoke me from my reverie.


My sister was writing a letter in the corner of the room. All she ever did anymore was write and check on Mom. We couldn't really talk too much, though we did occasionally. We got some oranges that we peeled together. We were giggling about something and it was almost a normal Saturday night, we could almost pretend Mom was sleeping. She wasn't sleeping though, she was lying there awake, drugged, uncomfortable.


I didn't sleep at the nursing home that night. I've been told not to regret it, I've been told not to think about it too much. I discovered that it is hard to listen to what I've been told. The phone call the next morning was simple, driving back to the nursing home was habitual, waiting outside in the hallway for my brother and sister to go inside the room and talk to the nurses was impossible. I still remember staring at the weird puke colored carpet, watching as some of the more aware patients of the nursing home blink at me curiously. I already knew what had happened, it's not like it was some big secret or anything, why am I still sitting here in the hallway? Outside there wasn't a cloud in the sky. The birds were chirping, carefree. The sun was rising in the east, brightly streaming through the window that I was gazing out of. Soon my sister will beckon me into that room, the same room the night before we were giggling over orange peels. The same room, but without my mother.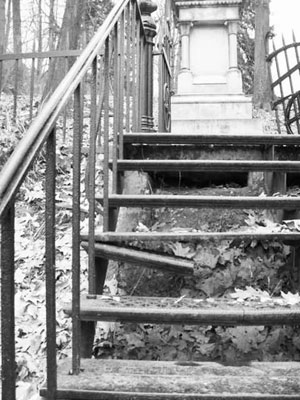 © Ginamarie D., Rochester, NY